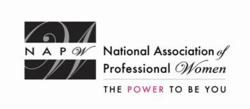 Thank you all for your help in making this Homemade Cookies for Troops project such a success.
Garden City, NY (PRWEB) August 28, 2013
Members and guests of the NAPW El Paso, TX Local Chapter gathered on June 25th for a professional networking meeting.
Guest speaker and marketing expert James Tidwell demonstrated to the group of professional women how to create innovative marketing strategies for their businesses.
Volunteers who participated in the Chapter's "Homemade Cookies for Troops" project were recognized for their selfless efforts by Chapter President Guadalupe Villarreal.
"Thank you all for attending," said El Paso Local Chapter President Guadalupe Villarreal.
"You could have been at home watching TV, however, you decided to be here today and this shows how professional and committed you are!"
The President recognized the El Paso Chapter volunteers who participated in the "Homemade Cookies for Troops" project. She presented these women with a thank you card and a Support the Troops pin.
"Thank you all for your help in making this project such a success," said President Villarreal.
"Please visit our Facebook page to view pictures of the soldiers receiving the care packages."
Next, guest speaker James Tidwell began his presentation by providing information about marketing strategies. He spoke about determining what the target population is such as: age, gender, job position, education level and average income.
He spoke about various social media sites (Facebook, Linkedin, Twitter and Google+) and websites such as Google, YouTube, and Yahoo. Additionally, he spoke about advertisement reports, attractive colors and person-to-person advertising.
"Mr. Tidwell also talked about how to create, claim and find online listings for businesses and included helpful information about the QR Codes, how to use and create them," said Chapter President.
After the presentation, the group of professional women discussed hosting a guest speaker at a future meeting who would help them understand how to better manage social media since many are concerned about privacy and gossip issues.
Other future topic ideas for Chapter meetings that were discussed included principle of synergy/ligature management and self-defense.
The Chapter President reminded members and guests that the next El Paso Local Chapter community project will be about mentoring women who are victims of domestic violence and pregnant teenagers.
As she closed the meeting, President Guadalupe Villarreal thanked everyone for attending and asked members to please continue to share new ideas with her.
"Remember, this is not my Chapter it is our Chapter," she stated.
Members and guests at the June meeting included: Patti Flores, Luz Torres, Marcy Shoberg, Beatrice Middleton, Letty West, April Rhodes, Rosalyn Thornton; Erika Newton, Takenia Alson, Kim Bowman, Marissa Watkins, Sarah Jarlin and April Rhoes.
The National Association of Professional Women (NAPW) is the largest and most recognized network of female professionals. NAPW provides a forum where women can interact, exchange ideas, educate, network, and empower. NAPW Local Chapters allow members to maximize their experience through meetings, networking opportunities, and professional events.
For additional information regarding the NAPW El Paso, TX Local Chapter and/or NAPW, please visit http://www.napw.com.
Follow NAPW on Facebook and Twitter.
###