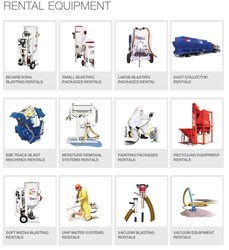 "The program is fantastic for all size companies, but is particularly appreciated by small to mid-sized companies...(that) can't justify the actual purchase of such equipment." - Keith Cornelius, Customer Service Manager
Columbus, OH (PRWEB) August 28, 2013
Columbus, Ohio-based Blast-One International officially announces a huge expansion of its rental division of blasting and painting equipment for the corrosion control and protective coatings industry.
Customer Service Manager, Keith Cornelius, said, "The program is fantastic for all size companies, but is particularly appreciated by small to mid-sized companies who may need something as large as a dust collector or decon trailer, but can't justify the actual purchase of such equipment. When in stock, our rental equipment can ship same day and is available to be shipped to job sites around the country. Rentals is definitely one of our fastest growing services."
Among the equipment available for rental are Bicarb soda blasting machines, small and large blasting packages, dust collectors, EBE track blast machines, moisture removal systems, painting packages, recycling equipment, soft media blasting, UHP water systems, vacuum blasting and vacuum equipment, as well as decontamination (decon) trailers.
Companies interested in rental equipment can contact Blast-One via their website which is http://www.blast-one.com.
Blast-One International has been a leading provider of equipment to the Corrosion Control and Protective Coatings Industry for over 35 years. Their focus is on heavy industrial and they are a leading provider of garnet abrasive in the continental United States. With locations in the USA, Australia, New Zealand, and The United Kingdom, Blast-One strives to provide excellent advice, and the fastest service and order fulfillment to its clients, worldwide.