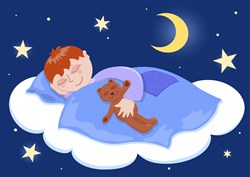 Parents have either experienced vast improvements in their child's sleep or a complete resolution of sleep issues.
New York, NY (PRWEB) August 28, 2013
Parents know that everything is more relaxed during the summer vacation, especially bedtimes for children. With the sun out longer, barbeques, family gatherings, picnics and sporting events can all run late into the evening. This contributes to parents allowing their children a break from the usual bedtime routines.
Ancy Lewis, Sleep Coach and owner of Sleeping Little Dreamers, provides the best tips for getting children to sleep and back into the bed time routine this school year. Below are the top tips for making back-to-school more successful and smooth:
1. Start shifting bedtime earlier
The earlier children are put to bed, the easier it will be to make the transition the week of school opening. However, if a child's body is used to going to bed late, it will be difficult for the child to drift off to sleep. Start shifting bedtimes earlier by 15-20 minute increments, several days or a week before school starts. This will make it easier for children to fall asleep at the earlier bedtime.
2. Turn off electronics one hour before bed
Electronic devices such as video game systems, iPads, and televisions can be stimulating, making it harder for children to wind down at bedtime. Also, the light from these devices can suppress melatonin, our body's natural sleep inducing hormone. Make sure all devices are shut off one hour before bedtime to allow children's minds to also shut down for the night.
3. Bring back the bedtime routine
Many parents often ditch a consistent bedtime routine during the summer. A routine of bath, books, and bed might have been cut short to just "bed". However, those series of consistent events right before bed can actually cue the brain that sleep is coming. Bedtime routines are also very relaxing and help children unwind.
4. Be prepared for stalling
As the first day of school approaches, a child's anxiety may rise. Be prepared for stalling tactics and bedtime resistance. Start the bedtime routine earlier a day or two before school starts. This leaves extra time for children to unwind, as well as time for parents to reassure. Be consistent if delay tactics begin.
5. Set up a good-bye routine for separation anxiety
Many children have a difficult time going off to school and separating from parents. Short and sweet separation rituals can help separations be less painful. "The Kissing Hand" by Audrey Penn is a good book to read with children who have a hard time with good-byes. Whatever ritual chosen, make it loving, not lingering. Long farewells can make children more upset and less willing to part with parents.
For the full blog post with all 10 Tips for getting children to sleep earlier this school season, visit: http://www.sleepinglittledreamers.com/blog/.
About Sleeping Little Dreamers
Sleeping Little Dreamers is devoted to providing Sleep Coaching services to parents of children ages 6 months to 6 years with sleep issues. Owned by a social worker, Sleeping Little Dreamers offers individualized sleep consultations that address the needs, values and parenting philosophies of each family. Sleep consultations can be done by phone with parents all over the world, or in person for those in the Westchester County, NY area. With the collaboration and support of Sleeping Little Dreamers, parents have either experienced vast improvements in their child's sleep or a complete resolution of sleep issues. For more information, please visit http://www.sleepinglittledreamers.com.