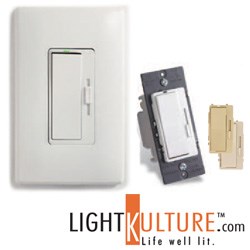 This dimmer is great because it is the first switch that accommodates either LED, electronic or magnetic low voltage, fluorescent or incandescent light sources.
San Francisco, CA (PRWEB) August 29, 2013
LightKulture.com is pleased to offer Harmony, the Tru-Universal Dimmer that works in harmony with your needs. "In a typical residential or light-commercial plan, the Legrand Harmony dimmer switch is the solution for a single dimmer that is compatible with every lamp and electrical load," noted Susan Inderbinen, President of LightKulture.com. Some of the simple features that have been applied to Harmony include wider slide control for easier dimming operations, ergonomic slider grip for more intuitive finger control, larger paddle switch that's easier to see and use, and a sleek modern design that matches today's styles. Harmony Dimmers are packaged with three interchangeable face covers: White, Ivory and Light Almond. Although wall plates are not included in the box, the face cover fits in any wall plate that measures 3"x4.5". Harmony Tru-Universal Dimmers work with every lamp load: LED, CFL, halogen, and incandescent, electronic low voltage or magnetic low voltage loads. These dimmers also eliminate flickering and poor performance.
As the leading provider of products and systems for electrical installations and information networks where people live and work, Legrand delivers an unequaled depth and breadth of innovative solutions. By incorporating a passion for the principles of good design, Legrand creates products that make life better with every touch. Legrand provides the right level of technology for the job, efficient installation, exceptional fit and finish, and outstanding customer service. Legrand is building on a legacy of providing smart solutions to customers needs. For over a century, products likes Wiremold raceway and Pass and Seymour wiring devices have served customers and installers alike. Legrand continues to add value through innovation, making systems energy efficient, installer friendly, while providing significant life-cycle benefits. Residential solutions like Harmony do more than just add power, they bring connectivity and convenience into every room.
For more information go to Harmony.
http://www.lightkulture.com/p-2141-harmony-universal-dimmer-switch-ledcflhalincan-legrand.aspx
Harmony Universal Dimmers, Simplicity meets Style, Now at LightKulture.com
"I am very excited to have found the Harmony Dimmer by Legrand. This dimmer is great because it is the first switch that accommodates either LED, electronic or magnetic low voltage, fluorescent or incandescent light sources. Normally, one has to buy an electronic low voltage dimmer or a magnetic low voltage dimmer. If the wrong dimmer is installed the fixture will not work and can likely be damaged. Some electronic low voltage dimmers sell for over $100. The Harmony Dimmer has a maximum load for low voltage and incandescent 700 watt/fluorescent and LED 450 watt, and sells for practically half the cost of first generation dimmer switches. Each dimmer also has a green LED light that glows when the light is turned off, making it easier to find in the dark. Installing a dimmer extends the usefulness of your chandeliers, pendants, and wall sconces, while enabling you to control the light level, atmosphere and drama in your dining room, living room, kitchen, bedroom, bathroom, media room, outdoor living space and office. Besides its functionality, it's really a beautiful switch," noted Susan.
About LightKulture.com
At LightKulture.com our mission is to offer the finest energy efficient contemporary lighting and light fixtures from around the world. We have assembled an exciting collection of the industries most innovative decorative and architectural lighting. We are proud to offer lighting solutions for both your home and work-life environments. Simplicity in design is complicated, function makes it last. Be inspired by our range of essential designs from well respected American and European manufacturers. In today's world, energy efficient lighting is as important as eco-friendly or green lighting fixtures, such as LED or CFL lighting. We offer the very best energy efficient lighting and light fixtures, both high value LED lighting fixtures and CFL lighting fixtures in modern and contemporary styles that provide quality, innovation and authenticity.
LightKulture.com
http://lightkulture.com
Email: sales(at)lightkulture(dot)com
Tel. 941-330-0422