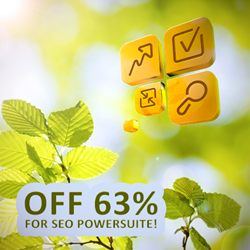 SEO PowerSuite is currently offered at a smashing 63% discount. That is the last chance to get the SEO software so cheap before its regular price grows in September.
Mink, Belarus (PRWEB) August 27, 2013
Link-Assistant.Com, a rapidly growing software company that specializes in developing SEO tools (SEO PowerSuite) and software for social media marketing (BuzzBundle), started a sale of its search engine optimization software. For 3 days, SEO PowerSuite will be available at $149 for the Professional edition and $399 for the Enterprise one.
In addition, everyone who recently purchased some tools from SEO PowerSuite (be it Rank Tracker, Website Auditor, SEO SpyGlass, LinkAssistant or a combination of these tools) will be able to upgrade to the complete toolkit with a special discount.
Link-Assistant.Com also draws attention to the fact that it's the last chance to purchase SEO PowerSuite so cheap, as its regular price will considerably grow in September.
*What makes SEO PowerSuite an effective solution for website promotion?*
SEO PowerSuite is a pack of 4 top-class tools: Rank Tracker, Website Auditor, SEO SpyGlass and LinkAssistant. The tools embrace all important web promotion activities: from SEO and traffic analysis to competition research and backlink management. The software takes care of such important SEO tasks as:

profound keyword research;
content optimization;
in-depth SEO site audit;
detailed backlink research and effective backlink management;
comprehensive competition landscape analysis;
monitoring website rankings performance;
and dozens more.
The tools are highly rated by bloggers, webmasters, in-house SEOs and SEO agencies.
*About the SEO PowerSuite sale.*
"Summertime is nearly over, which means that the best time to recover from seasonal sales slowdown has come," says Viktar Khamianok, CEO, Link-Assistant.Com.
"Usually, fall is the busiest period for online businesses that strive to overcome summer sales stagnation, improve their online visibility and reach a bigger number of potential customers. That's why the demand for tools that can effectively handle website promotion activities is high at this time," explains Viktar.
"SEO PowerSuite is a scalable SEO platform that focuses on providing detailed and highly accurate SEO data, comprehensive data analysis, planning and implementing SEO campaigns and SEO reporting. The software is a real game-changer for everyone engaged in the process of search engine optimization," continues Viktar.
"And now, when the season is high, we are offering a special deal on our SEO tools – SEO PowerSuite is currently available with a huge 63% discount. We also want to emphasize that it's the last chance to get our SEO software so cheap, as we are planning to raise its regular price later in September," adds Viktar.
From August, 27 till August, 29 Link-Assistant.Com will be selling SEO PowerSuite at a 63% discount. The Professional edition will be available at $149 and the Enterprise one at $399.
Also, those who recently purchased some separate tools from the toolkit will be given special discounts on upgrading to the complete SEO PowerSuite pack. Click here for more information.
*About Link-Assistant.Com*
Link-Assistant.Com is a Europe-based software provider, developing a full range of cross-platform search engine optimization products since 2005. As of August 2013, the company boasts of 500k happy customers all over the globe. The company's flagship products include SEO PowerSuite (all-inclusive SEO solution) and BuzzBundle (SMM software). To be in the know of Link-Assistant.Com's news, visit the company's blog: http://www.link-assistant.com/blog/ and official company's communities on Facebook fb.me/LinkAssistant, Twitter @LinkAssistant and Google Plus gplus.to/LinkAssistant.