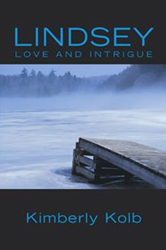 "High school would have been much easier if I had had a friend like Lindsey," Kolb says. "I want young readers to understand that life is a process of progress, not perfection."
Chicago, IL (PRWEB) August 29, 2013
Real-world teenage fiction explores the complexity of high school for young girls.
Working mother and author, Kimberly Kolb, pulls from her desire to provide real-life role models for her kids, to create a one-of-a kind teenage fiction. Kolb brings to life a teen girl's struggles with everyday problems of high school, friendship, heartbreak and cyber stalking. "Lindsey: Love and Intrigue" will keep readers on their toes with its blend of romance and mystery.
As the new girl at school, Lindsey feels pressured to meet the demands of her parents while battling her insecurities to build new friendships. Busy balancing high school challenges, Lindsey doesn't take notice to the disturbing series of events surrounding her until it may be too late.
Kolb's new book provides readers with a sense of connection to the universal topics that give it meaning.