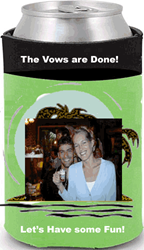 "We like to give back to the community in different ways" -- Julie Liddle
Raleigh, NC (PRWEB) August 28, 2013
Kustom Koozies, a leader in the print and delivery of personalized drink coolers has donated to feed a duck for a year.
Kustom Koozies looks for ways to give back to the community and is taking the opportunity to sponsor a Duck at the Sylvan Heights Bird Park in Scotland Neck, NC.
Sylvan Heights Bird Park is a non-profit organization started in October 2006, designed to give visitors an unfortettable up-close experience with over 2,000 ducks, geese, swans and other exotic birds from around the world. Their mission is educating people about the importance of conservation and research, focusing on waterfowl and wetland habitats.
"We like to give back to the community in different ways," says Julie Liddle of Kustom Koozies. "We are all animal lovers, and this just works for us."
Kustom Koozies provides 100's of free great designs for parties and events and adds more on a regular basis. Some of their most popular are "to have and to hold and to keep your drink cold" and "a wedding without any buzz is a wedding that never was." Customers are also able to upload their own graphics.
Kustom Koozies offers 18 different styles of drink insulators. From The Original KOOZIE® Can Kooler to Collapsible KOOZIE® Can Cooler to zipper bottle insulators. Kustom Koozies also offers related items such as a wine wrap for wine glasses, stadium cups, solo cup wraps and even T-shirts.
Kustom Koozies uses the most current screen printing techniques available to transfer ink to their products, thus ensuring a quality item that will last a long time.
Kustom Koozies has been successful over the last 15 years due to a number of reasons:

They offer a low minimum order; the minimum order is actually 1.
Rush delivery is available; print and delivery in a week in some instances.
Shipping to many countries; Kustom Koozies will ship to 17 different countries.
Many free art graphics to choose from; Kustom Koozies has almost 500 graphics to choose from with wedding, reunion, birthday, bachelor or bachelorette party, most major holidays, beach house, lake house and many other themes.
###
Kustom Koozies was started 15 years ago in the spare bedroom of the owners house. The owner wanted to be able to buy insulators in small quantities and that was not available. Kustom Koozies, created a process to do that and now prints can coolers in a 5000 square foot building, servicing over 6,000 customers annually. Kustom Koozies can be found at http://www.kustomkoozies.com http://www.facebook.com/pages/Kustom-Koozies/293312867365701 on Facebook @koozies on Twitter, email rgl(at)kustomkoozies(dot)com.