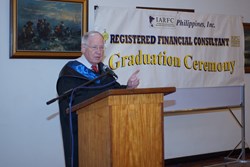 I was very impressed with the intellectual and ethical quality of the RFCs and their enthusiasm for producing high quality financial plans.---Chairman Ed Morrow
Middletown, OH (PRWEB) August 29, 2013
Most recently in Makati City, Philippines, their annual event honored those who completed the five day "fast track" RFC course. Participants had to pass written exams and an assignment to produce a financial plan to qualify for membership in the IARFC for the RFC designation. This year, twenty graduates successfully made it to the graduation ceremony. Morrow also presented a workshop on the "Use of Whole Life" at the home office of Insular Life.
In Bangkok, twenty-five graduates received their RFC designations. In addition, Morrow presented a workshop on "How to Make the Transition from Agent to Advisor."
Twenty-four graduated from an inhouse RFC program sponsored by Dah Sing Life which is part of the Dah Sing Financial Group in Hong Kong. Certificates were distributed by company president, Eleonore Chow, Inn Lee Kang of Baptist University and Ed Morrow.
The IARFC conducts RFC courses and programs in a growing number of countries. The typical structure is the formation of two entities: a professional association to serve the advisors and an educational partnership or entity to offer the educational courses. "The RFC program is the predominant financial planning designation in the Philippines, Thailand, Macau and Hong Kong," related Morrow.
According to the Philippines Director Ralph Liew, "Over the past ten years, about one thousand participants have attended the RFC course in the Philippines alone. RFCs have successfully started financial planning practices like Geraldine Balao, who made it to the Million Dollar Round Table in just 2 years from scratch as a financial advisor."
Qualified financial professionals from any country may apply for the RFC designation. Approval is based on meeting the same standards as those in the U. S. with adjustments considering different institutions, educational courses and licensing. For more information, email us at info(at)iarfc(dot)org.