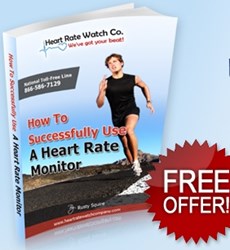 We are super excited about the Fitness Advice Center because it gives us the opportunity to share tips, fitness and nutrition advice with our followers
Bozeman, MT (PRWEB) August 28, 2013
The Fitness Advice Center has been opened on Facebook by the Heart Rate Watch Company to provide free fitness books, podcast interviews with world record holder Rusty Squire along with conversation and advice.
"We are super excited about the Fitness Advice Center because it gives us the opportunity to share tips, fitness and nutrition advice with our followers," says Rusty Squire, President of the Heart Rate Watch Company.
Complimentary Fitness Books
The Fitness Advice Center is offering three complimentary fitness e-book downloads to all visitors that "Like" the Fitness Advice Center's Facebook page.
'How To Successfully Use A Heart Rate Monitor' explains building the aerobic engine the right way according to Squire. 'How To Elevate Fitness With Strength and Interval Training' is a companion book that shows readers how to take fitness to the next level after base building.
"A third book entitled 'Heart Rate Monitors for Newbies' explains the process of selecting the correct device to meet your needs," says Squire.
Complimentary Podcasts
"Interviewer Steve Morgan leads me through a series of interviews that go over blog posts and advice columns I have written over many years," says Squire. He adds, "These are nice, short interviews, about five minutes in length, that cover every topic from nutritional tips to exercise tips."
Conversation
"I'll do my best to answer all of our users questions," says Squire. He adds, "We also have a close affiliation with the Human Performance Laboratory at Montana State University so we can draw upon Dr. Dan Heil as a resource, too."
"We can answer your questions on fitness, nutrition, and even GPS watches," says Squire. He adds, "This should be a very unique Facebook page because there are years of resources already available and we have created hundreds of pages of content over the years so it should be a pretty lively place."
The Heart Rate Watch Company also maintains a national toll-free line where users can even speak with Rusty directly at 866-586-7129. "Very few Facebook pages on fitness offer this level of service to users," says Squire.