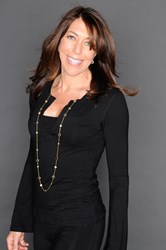 'As an entreprenuer and business owner, as a women and advocate for karma yoga & giving back, I am honored to be able to share my journey, my vision and my philosophy via the Divine Feminine Telesummit.' - Beth Shaw
Los Angeles, CA (PRWEB) August 27, 2013
Beth Shaw, founder of the world's largest yoga training school, YogaFit has been chosen to speak at this year's powerful Divine Feminism Yoga Telesummit on September 4th, where she will be discussing the importance of maintaining your values and giving back, while running a highly competitive, successful business.
Shaw will be speaking to an estimated 70,000 individuals who will attend this free event.
YogaFit's Founder is on a panel of several speakers chosen to present this year on a variety of topics covering yoga, wealth, and the importance of giving back to your community. The telesummit, which can be accessed from any phone line or computer with internet presents 8 speakers from September 3-12, with Shaw presenting on Wednesday, September 4th.
You can join in on this event by registering here.
YogaFit is the world's largest yoga training school, offering hundreds of trainings each year all over the world, YogaFit was established in 1994 by Beth Shaw with one goal, to bring yoga to the masses. Since it's conception, YogaFit has been the industry leader for 200/500 Hour RYT Certifications and has been touted for creating several revolutionary programs including the YogaFit for Warriors Program, which works with military personal to train instructors to aid in healing PTSD and Traumatic injury.
For more information about YogaFit, visit YogaFit.com.