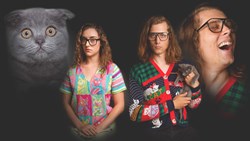 Cats have become a cultural phenomenon.
Minneapolis, MN (PRWEB) August 28, 2013
TheSweaterStore.com, home to the world's largest selection of ugly Christmas sweaters, is proud to announce the release of 99 vintage cat sweaters. For the cat lady in all of us, these feline-focused sweaters offer an excuse to look ridiculous year-round. Even better, these cat sweaters are for a good cause, as all proceeds go to the ASPCA, America's largest humane society.
The collection of cat sweaters encompasses a variety of styles - pullover, cardigans, and vests are all represented. Colors range from conservative blacks and blues to Warhol-esque multicolor prints. Many designs contain more than just cats. Various cat related objects, like mice and balls of yarn, adorn these sweaters. A statistical analysis of the collection is summarized in the infographic, "99 Cat Sweaters".
Why cat sweaters? "Cats have become a cultural phenomenon," says Zach Nagle, manager of TheSweaterStore.com. "In fact, a search on YouTube for cat videos garners 44 million results, and this week in Minnesota, the Walker Art Center is holding it's 2nd Annual Cat Film Festival." Online cat videos and memes have made legitimate celebrities out of felines like "Lil Bub" and "Grumpy Cat," who are now household names with their own books and iced coffee drinks.
Relative to the their pervasiveness in pop culture, cats have been underrepresented in the fashion world, until now.
About TheSweaterStore.com
TheSweaterStore.com is an online retailer that carries the largest online selection of vintage ugly Christmas sweaters in the world. Their inventory can be filtered by size, color, style and design, making it easy to find the perfect ugly sweater. Visit thesweaterstore.com for more information.
Media Contact:
Zach Nagle
zach(at)thesweaterstore(dot)com
612-333-6576
Click here to see a collection of cheesy cat sweater portraits on TheSweaterStore.com.