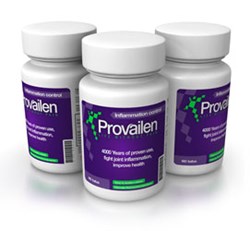 We're excited to bring this winning 3-in-1 formula to DRTV.
Romeoville, IL (PRWEB) August 29, 2013
Provailen's direct response infomercial will feature its 3-in-1 formula proven to relieve pain and restore joint health. Its 3-in-1 formula helps the cause of pain by reducing the inflammation around the joints by balancing the immune system to help it stop attacking the joints. The key ingredient in Provailen is Reishi; a mushroom pulled from trees that's been used as a healing herb in Asian cultures for thousands of years. Reishi contains polysaccharide beta-1 & 3-D-glucan, which boosts the amount of macrophages in your system. Macrophages are one of a group of immune cells that find and devour bacteria, viruses, and dead or injured body cells. Provailen's formula helps regain the pain fighting balance of your macrophages which in turn effectively reduce the damage and effects created by arthritis better than other over the counter medications. Provailen works on the root cause of pain as well as easing the symptoms. The Tongkat Ali in Provailen is effective by increasing muscle growth around the joints to help strengthen them. The Capsaicin included in this proven formula helps the other ingredients to absorb quickly into your body. The infomercial's key message will be to promote immediate pain relief while restoring injured joints. Provailen has been incredibly effective and looks to increase awareness through this initiative. Provailen is incredibly effective, pure, natural and safe. For more information about Provailen, go to http://www.provailen.com.
# # #
About RW Advertising, Inc.: RW Advertising specializes in Infomercials and short form DRTV campaigns. Offering a complete campaign service including TV production, media management, and results tracking has been its strength since day one. RW has been in the business since 2003 and was just recognized by Inc. Magazine as one of the fastest growing companies. RW's resume has been established with well-known names in various categories in the direct response sector working with The ProUnit Performance Trainer, Ronco Corp, Masterbuilt, Butterball, BSP Pharma's FlexNow, 5Linx Enterprise's, RW Nutra, Grow Up and many more. To learn more about RW's winning solution, visit http://www.rwadv.com.