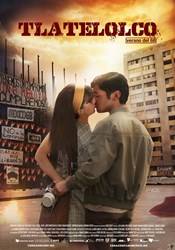 A good film transcends language and cultural differences. The SF Latino Film Festival provides a venue for these works to be discovered and for people to connect.
San Francisco, CA (PRWEB) August 29, 2013
Cine+Más SF presents the San Francisco Latino Film Festival (September 12-27, 2013) in theatres and cultural centers throughout the San Francisco Bay Area, screening award winning and critically acclaimed documentary and feature films throughout Latin America, South America and the USA. The audience will have the opportunity to participate in discussions with local and visiting filmmakers after many of the screenings.
The festival takes the program to several theaters and cultural centers in the Bay Area including the Victoria Theater and the Landmark SF Opera Plaza Cinema, the Mission Cultural Center for Latino Arts, La Peña Cultural Center, Galeria de la Raza, Artists' Television Access, the de Young Museum and the Eastside Cultural Center and Mexican Heritage Plaza. Films are screened in their original language with English subtitles. Tickets online or by phone.
"The festival's purpose is to build community through film, while educating, entertaining, and recognizing the work of Latin American, Spanish, and US Latino filmmakers which otherwise may not be seen in San Francisco," said festival director Lucho Ramirez.
This year the CMSFLFF opens this edition of the festival with Tlatelolco: Summer of '68 (Verano de '68), directed by Carlos Bolado (Argentina/México). An across-the-tracks love story, well-off girl and a working class boy, set against Mexico's Tiananmen: the 1968 student protests and strikes that climaxed in the Tlatelolco Square massacre of students by security forces. The number of deaths was covered up by Mexico's PRI ruling government, which hosted the Olympic Games 10 days later. Carlos Bolado was nominated for the 2006 Sundance Film Festival Grand Jury prize with Only God Knows (Soló Dios Sabe) starring Diego Luna, Alice Braga, Damián Alcázar. He has been recognized by many film institutes and film festivals around the world including the Ariel Awards (Mexico's Academy Awards), Havana Film Festival, Rotterdam Film Festival and the San Francisco International Film Festival.
A short list of Independent and blockbuster feature films includes: Sex, Love, & Salsa (USA/New York), directed by Adrian Manzano, centers on a guy's reluctance to commit to just one woman; 7 Boxes / 7 Cajas, (Paraguay), by Juan Carlos Maneglia/Tana Schembor, a thriller which broke box office records; La Paz (Argentina), by Santiago Lozo, made its debut at the Berlin Film Festival, is a beautiful study in the life a of young man trying to reclaim normalcy in his life after a stint in a mental hospital; Delusions of Grandeur (USA/SF), by Iris Almaraz & Gustavo Ramos, is a quirky comic drama set in San Francisco with a young woman finding her place and love ; Homebound (USA/LA) by Fanny Véliz and starring Enrique Castillo, is a heartwarming drama about leaving success in a fast-paced big city and going back to a sleepy small-town in Texas; Sofia & the Stubborn Man / Sofia y El Terco (Colombia) by Andrés Burbano is a fun, road-trip comedy about a middle aged woman who just wants to go to the beach - stars Pedro Almodovar muse, Carmen Maura (Volver, Women on the Verge of a Nervous Breakdown); Porcelain Horse / Mejor No Hablar de Ciertas (Ecuador) by Javier Andrade is a fast paced and nuanced film about a couple of brothers living a charmed life provided by their parents but also self-destructive with alcohol and drugs. Things go terribly wrong after a domestic dispute that becomes the starting point to their new lives.
Documentaries figure prominently in the festival's offering. The following are some of the titles: La Camioneta: A Journey of One American School Bus, (USA) by Mark Kendall just made IndieWire top 10 list of documentaries of 2013. At first glance, a story about retired school buses being used in Guatemala as 'camioneta'- fare collecting buses but it's much more. It takes a sensitive look at the life of the people, the challenges of the journey, and the risks to be in this line of work. Latinos Beyond Reel (USA) by Miguel Picker and Chyng Sun. One in six adults and one in four children in the US are Latinos, but their reality is rarely depicted in the mainstream media. This film documents the history, evolution, and meanings of these images, and how they deeply and harmfully affect all of us, particularly Latinos; Closing night film, The Absent Stone/ La Piedra Ausente (Mexico) by Sandra Rozental and Jesse Lerner deftly dovetails the ethical and engineering questions that arise when we look at monumental national treasures on display at museums. In 1964, the largest carved stone of the Americas was moved 30 miles to the National Anthropology Museum in Mexico City. The extraction set-off a rebellion in the town and led to the intervention of the army. What about Columbus? (Spain) by Lander Camarero is a doc about fiction in which teams of filmmakers from India, Spain, and Peru adapt "The Little Prince" by Antoine de Saint-Exupéry. The results are adaptations with narrative and cultural differences.
Short films include Yasuni (USA/Ecuador) by Nicolas Entel (Sins of My Father/Pecados de Mi Padre) explores the heart of the Ecuadorean Amazon forest and aims to protect Yasuni National Park from oil exploitation; Vida Diferida /Life, Deferred (USA) by Brenda Avila-Hanna profiles the life of a Bay Area DREAM Act candidate who fears her dream of getting an education and becoming a doctor threatened because of her legal status as an undocumented high school student.
Sponsors & Community Partners
The Cine+Mas San Francisco Latino Film Festival is made possible with the generous participation of sponsors and their continued commitment to Latino arts in the San Francisco Bay Area. Sponsors include Comcast, Viendo Movies, Marla Dell Talent Agency (MDT), JCDecaux, KQED, KPIX 5, KBCW and CBS Radio SF, Telemundo 48, El Mensajero, WILD 94.9, and KPFA 94.1FM.
"Comcast is proud to sponsor the Cine+Más San Francisco Latino Film Festival," said Elaine Barden, Vice President of Marketing for Comcast in California. "The festival's mission to entertain and educate consumers with a strong interest in film, culture, and Latino identity is a perfect blend with Comcast's commitment to delivering culturally relevant programming that reflects the diversity of California."
"MDT Agency Inc. supports the Cine+Mas San Francisco Latino Film Festival because I, on a personal level, have been a fan of Latino films since I worked for the now defunct ILFF from 2003-2008. Being half Latina, first generation and part of the talent industry, I have a vested interest in seeing more Latinos in print campaigns, commercials, TV shows and major motion films produced in the U.S," said Michelle Mokalla, president & owner of MDT Agency, a San Francisco based model & talent agency.
What: Cine+Mas San Francisco Latino Film Festival
Where: SAN FRANCISCO, Berkeley, Oakland, San Jose
When: Sept. 12-27, 2013
Sept. 13, 7:00PM Opening Night. Tlatelolco: Summer of 68, Victoria Theater, San Francisco
Film schedule available at: http://bit.ly/CMSF5Tickets .
Downloadable photos available at: http://bit.ly/13FRWE5 .
WHERE/WHEN: SAN FRANCISCO
Sept. 12, 5:30-7:30pm Festival Kick-Off Celebration Mission Cultural Center for Latino Arts, San Francisco
Sept. 13, 7:30pm Opening Night. Tlatelolco: Summer of '68, (7:30) Victoria Theater, After Party hosted by The Chapel
Sept. 14-15, 1PM-11pm Opera Plaza Cinema, Screenings
Sept. 17-21, 7pm (Tues-Fri) Sept. 21, 3-9pm (Sat.) Mission Cultural Center, Screenings
Sept. 22, 7pm, Yerba Buena Center for the Arts, Screenings
Sept 24, 7PM Artists' Television Access, Screening
Sept 25-26, 7pm Galeria de La Raza, Screenings
Sept. 27, 6:30pm Closing Night screening de Young Museum
BERKELEY
Sept. 22, 5-9pm La Peña Cultural Center, Screening,
OAKLAND
Sept. 27, 7pm ESAA, Eastside Cultural Center, Screening
SAN JOSE
Oct. 3, 6:30-9pm Mexican Heritage Plaza, Screening, San Jose
TICKETS: Online http://bit.ly/CMSF5Tickets or by phone 800.838.3006
INFO: http://www.sflatinofilmfestival.org or call 415-754-9580
About Cine+Más SF
Cine+Más SF contributes to the Bay Area's active and diverse arts scene through the San Francisco Latino Film Festival, year round programming and special events centered on the celebration of Latino arts including the visual, performance, and literary arts.
##