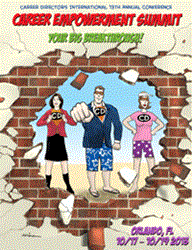 What started out many years ago as a goal simply to recruit industry-related door prizes for our attendees has truly mushroomed. Each year some of the career industry's top authors come to us to donate copies of their newest books to all attendees.
Melbourne, Florida (PRWEB) August 28, 2013
There is nothing quite like the rush of attending an industry conference – attendees leave buzzing with new ideas, new services to offer clients, and powerful new networking contacts. When career coaches and resume writers attend the Career Directors International's (CDI) Global Career Empowerment Summit each year, they get to leave with just a little bit more.
CDI's President, Laura DeCarlo, states, "What started out many years ago as a goal simply to recruit industry-related door prizes for our attendees has truly mushroomed. Each year, some of the career industry's top authors come to us to donate copies of their newest books to all attendees. In addition, we also receive thousands of dollars worth of door prizes to be distributed to attendees, which range from gift certificates for an executive recruiter search to a career coaching certification."
This year CDI has not one but two authors providing copies of their newest book, due out this September, to all attendees. These include:

Joyce Lain Kennedy and publisher John Wiley & Sons, Inc. with the 2013 release of Job Search Letters for Dummies.
Martin Yate and publisher Adams Media with the 2013 release of Knock 'em Dead: The Ultimate Job Search Guide 2014.
Additional door prizes, that will be drawn randomly between sessions, include:
WinTheView interview preparation and presentation tools subscription
Job & Career Transition Coach certification workshop from Career Development Network
Business Development and Marketing certification workshop from Career Development Network
360Reach Personal Branding certification training from Reach Personal Branding
E-Book and Information Product Success Mentoring program from Self Improvement Online, Inc.
Sales Coaching session – Kick Butt Sales Training, Gemini Resources
Recruiter Distributions – Gilbert Resumes
Company Research Packages – FTT Research
Copies of HIRED! – a book by Elinor Stutz
MBTI Communications Report + 1 hour of communications coaching – Career Assessment Goddess
Personal Branding Assessment: 360Reach Survey, 30+ page Summary Report + 2 hours of Career Coach time – Career Assessment Goddess
Talent Insights DISC Behavior Strengths & Motivators Online Assessments and Reports – ProfilingPro and JaneCo's Sensible Solutions
What else can a career professional attending CDI's Summit expect? The Summit will be held October 17-19 in Orlando, Florida at the Rosen Plaza Hotel on International Drive. DeCarlo says, "It's close to everything and in an area full of energy and things to do for all ages, which is perfect for the typical Summit-goer who wants to turn their conference attendance into a vacation."
The Summit theme this year is, "Your BIG breakthrough" and is complemented by industry leading presenters and topics that will help resume writers, career professionals, and industry entrepreneurs get to and stay at the top of their games.
A few additional keys that make the Summit a 360 degree, 365 days-a-year win for industry attendees include:
Live, face-to-face program which cements relationships and builds a strong network.
Lead-in structured networking session to break the ice and immediately find those individuals who will be their best connections.
Buddy matching to guide first-time attendees and new members to get the most out of their experience.
Private online discussion group for registrants which allows the conversation and networking to happen before, during, and after the Summit.
15 high-energy learning sessions across three days to give attendees a wealth of relevant and forward-thinking information.
Hands-on exercises and activities in every session to keep attendees on their toes and to truly cement their learning.
Closing activities in each session to create takeaways, action plans, and tools for putting new data to work.
In-depth Q&A sessions at the end of each day to sum up learning and take it to the next level.
Balanced program that delivers the newest and hottest trends in resume writing, career services, and business-building/business management.
Industry professionals can learn more about CDI's Summit on their website.
About CDI: Career Directors International – http://www.careerdirectors.com
CDI is a global professional association that is committed to ensuring that career and resume professionals can grow and thrive in a rich, vibrant, exciting, safe, and nurturing environment. CDI is focused on championing the industry's cause for credibility and visibility; fostering exceptional success in every generation of career and resume professionals; and cultivating the career superhero that exists within each one of us.