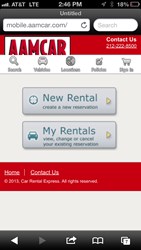 'It was fast, hassle-free to book my reservation from my i-phone, I love it,' said Tom Ready.
New York, NY (PRWEB) August 27, 2013
AAMCAR recently introduced its mobile web-site designed to help busy New Yorkers book a vehicle in a quick and seamless manner. Charlie Rothenstein, a frequent renter said, "I am a salesman so I need a car last minute 2-3 times a week. I travel all the time so it is a little hard to be in front of a computer to book a reservation. I use AAMCAR's mobile website and it has been fantastic. I can book a car within minutes and it's ready for me when I arrive."
AAMCAR understands that people lead busy lives and are constantly on the move. To accommodate this need and keep pace with faster and better technology, AAMCAR continues to make changes that are cost-effective and make for efficient operations.
Customers may make reservations on their phone for either location. The location in Washington Heights has a 24-hour garage making it easier for customers to drop-off the rental vehicle at any time.
Both branches are located next to full service gas stations making the return process stress-free. AAMCAR delivers to any location in Manhattan at no additional charge and will deliver to the outer boroughs for a nominal fee.