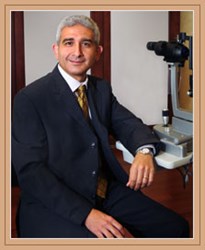 The way modern medicine is advancing, we will soon have answers for vision problems that we never thought possible.
San Antonio, Texas (PRWEB) August 28, 2013
Myopia is a condition known to most as "nearsightedness" and is very common, affecting millions of people worldwide. The condition does not affect the ability to do something such as read a book, but seeing a golf flag in the distance would be affected by Myopia. The hindrance to vision occurs due to the eyeball having more length than usual, causing images to focus in front of the retina rather than on it. There is no current cure of medication to combat Myopia; its effects can only be neutralized through the use of corrective lenses, LASIK, PRK, or implantable contact lenses. However the results of a new study that has found 24 genes responsible for Myopia have Dr. Nader Iskander, who practices LASIK in San Antonio, extremely excited for the future.
"Every day, patients walk through my doors and tell me how tired they are of not being able to see distances clearly," said Dr. Nader Iskander, LASIK surgeon and owner of San Antonio Eye Specialists. "I'm serious when I say every day, because Myopia is an extremely common and frustrating condition. We offer LASIK in San Antonio for those tired of the glasses and contacts game. PRK and implantable contact lenses are viable options as well if they are not a candidate for LASIK. But these are the only options. That is why this new study is so exciting! As a third generation ophthalmologist in San Antonio, it is extremely exciting for me to think that we have the capability of these breakthrough discoveries? Myopia is something you are born with, so there is no curing the condition, but what about the rest of the spectrum of ophthalmology? If we can isolate these genes what else can we accomplish with conditions that can be cured?"
The study was conducted by the consortium for the Refraction and Myopia. Genetic and refractive error data was analyzed from 45, 000 subjects from 32 studies. From the result, 24 new genes were found that lead to eye development, the structure of the eye, and brain and eye tissue signaling. Those carrying the gene had a risk ten times that of subjects not carrying one of the new found genes. It was also found that subjects living in urban areas had higher risk for developing myopia.
"The way modern medicine is advancing, we will soon have answers for vision problems that we never thought possible," said Dr. Iskander. "These answers are most likely far off, but for now this new discovery is a huge leap in the right direction. Until then the only forms of treatment will continue to be corrective lenses, LASIK, and PRK for tacking myopia in San Antonio and other urban areas. I will be monitoring the future testing closely. Vision is so important. If we can treat sooner rather than later, it's added quality of life."
If you would like more information on LASIK in San Antonio, contact San Antonio Eye Specialists at (210) 822-9800 or visit:http://www.mysaeyes.com
Address: 3619 Paesanos Pkwy, Ste. 302, San Antonio, TX 78231
About San Antonio Eye Specialists: San Antonio Eye Specialists is led by Dr. Nader Iskander, a third generation ophthalmologist, dedicated to providing the San Antonio, TX area with excellence in vision care. San Antonio Eye Specialists provides services including LASIK, cataract surgery, glaucoma treatment, facial aesthetics, and the very best technology available.
FACEBOOK: https://www.facebook.com/#!/mysaeyes