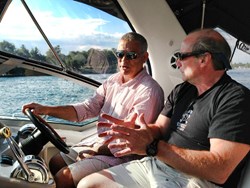 The business of boating is in our blood.
Alexandria Bay, NY (PRWEB) August 28, 2013
Hutchinson's Boat Works, Inc. of Alexandria Bay, NY, is pleased to celebrate 105 years of business during 2013 – including a unique brand of customer service that turns its customers into confident boaters and sets the business apart from other boat dealers.
At Hutchinson's, buyers of new or used boats receive as much instructional time as they need to become comfortable with the operation of their vessel. "We are completely committed to our customers' satisfaction -- our main goal is to make sure a customer is comfortable so that they love boating and stay with it," said Mark LaLonde, president of Hutchinson's.
Boat purchases include detailed instructions on docking, operation of all onboard systems, navigation, places to go, and advice on accessories, service, and storage. A free tank of gas and 30 days of free dockage at Hutchinson's full-service marina helps customers settle in as well. Hutchinson's marina is situated on the St. Lawrence River in northern New York State's beautiful Thousand Islands region minutes away from Canada and easily reached by water or land from Kingston and Brockville.
"The business of boating is in our blood," said LaLonde. "Our customers routinely tell us that our expertise and commitment greatly improves their purchase and boating experience, and I'm very proud of that fact," he said.
Hutchinson's offers events for its boaters including group destination trips, seminars, and boater gatherings. A climate-controlled showroom was built in 1999 displaying boats as large as 48 feet in length. A heated storage/service building was completed in 2004. Dockage accommodations have continually expanded and improved over the years. New floating docks were built in 2012.
More about Hutchinson's Boat Works
Hutchinson's is a third-generation business started in 1908 and one of the best known and longest operating boat businesses on the St. Lawrence River. Its facilities are complete with dockage, storage, fuel, haul-out, a parts department, ship's store, and service department with a team factory trained and certified in Mercruiser, Mercury, Cummins and Raymarine products.
The early years of this family business were devoted to building hundreds of now historic wooden boats that are highly regarded for their craftsmanship and quality. Some had one-of-a-kind hulls. Hutchinson's became a Sea Ray dealer in 1967 and carries several other brands as well, including Bennington, Starcraft, Starweld, and Checkmate. Sea Ray has awarded Hutchinson's its highest designation as an Ambassador Dealer, and the company has been named to the prestigious list of Top 100 Boat Dealers in North America by Boating Industry magazine.
For more information, visit http://www.hbwboats.com or call 315-482-9931.