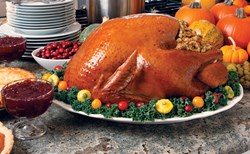 'The objective of the new program is to give back to the local and national community. Partnering with Connecticut Food Bank is one of many ways we plan to contribute to the society that makes our business possible.' - Tim Beebe, VP, American Cruise Lines
Guilford, CT (PRWEB) August 28, 2013
American Cruise Lines (http://www.americancruiselines.com), the largest U.S. cruise company, announced today the launch of its "Give-Back" program, a brand new initiative dedicated to helping those in need. To kick off the program, American Cruise Lines has partnered with Connecticut Food Bank to help alleviate hunger in the state of Connecticut, which is home to its headquarters. For each ticket sold on its Thanksgiving cruises, the line will donate $50 to the Food Bank. The money raised will help put food on the tables of needy Connecticut residents and spread joy this holiday season. The Give-Back program will raise money on tickets sold for the following Thanksgiving cruises:
Mississippi River 7-night cruise (Memphis to New Orleans ) - Nov. 23 – Offered aboard the 150-passenger Queen of the Mississippi
Historic South & Golden Isles 7-night cruise – Nov. 23 – Offered aboard the 104-passenger Independence
Great Rivers of Florida 7-night cruise – Nov. 23 – Offered aboard the 49-passenger American Glory
"We are grateful to American Cruise Lines and its customers for helping low-income families, especially during the holiday season," said Nancy L. Carrington, Connecticut Food Bank's President and CEO. "Help is needed now more than ever, as one in seven Connecticut families are struggling to put food on the table. We are delighted to work with a local organization as dedicated as American Cruise Lines."
In addition to the rewarding feeling of knowing their bookings will help those in need this holiday season, guests will enjoy Thanksgiving in one of the most spectacular areas of the country. Onboard, a team of world class chefs will prepare a special feast with everything that could be expected at a traditional Thanksgiving meal. Guests will enjoy turkey, ham, stuffing, mashed potatoes, cranberry sauce, green beans, apple pie and more. The day before, guests may even join the head chef to learn how he makes the cornucopia.
"The objective of the new program is to give back to the local and national community," said Timothy Beebe, Vice President, American Cruise Lines. "Partnering with Connecticut Food Bank is one of many ways we plan to contribute to the society that makes our business possible. From sponsorships and monetary donations, to employee volunteering, American Cruise Lines is committed to making the world a better place."
About Connecticut Food Bank
The mission of Connecticut Food Bank is to provide nutritious food to people in need. Founded in 1982, Connecticut Food Bank is a member of Feeding America, the nation's largest food bank network. Connecticut Food Bank serves more than 650 emergency food assistance programs in six of Connecticut's eight counties: Fairfield, Litchfield, Middlesex, New Haven, New London and Windham. Connecticut Food Bank distributes an average of 36 tons of food every business day. Visit http://www.ctfoodbank.org for more information or call 203-469-5000.
About American Cruise Lines
American Cruise Lines, the largest U.S. cruise company, operates the newest fleet of riverboats and small cruise ships on more than 35 itineraries around the country. Long established and deeply experienced in cruise travel, American Cruise Lines has most recently received world-wide recognition as the first to revive paddlewheel river cruising in America. The line is known for working closely with guests before, during, and after a cruise to create a highly personalized cruise experience. To learn more about American Cruise Lines, visit http://www.americancruiselines.com or call 800-814-6880. Find us on Facebook at facebook.com/americancruiselines or follow us on Twitter at twitter.com/american_cruise.
###