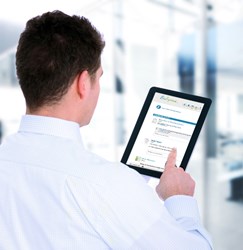 'Our goal was clear from the beginning: Bring it all together in one simple and affordable tool!' - Leif Hartwig
Tucson, AZ (PRWEB) August 28, 2013
BizAnytime, a new cloud business collaboration application provider that bundles together a host of digital business intelligence and communication tools, is excited to promote its Freemium model. This innovative plan is similar to the Dropbox model, but provides a host of additional applications in one simple and affordable package. This new pricing model provides business people with a variety of options to save money while increasing productivity.
By providing this Freemium model, in addition to the company's low-cost Business and Enterprise packages, BizAnytime is allowing small businesses to use many of its premium services at no cost. The Freemium, Business and Enterprise plans all include Unlimited Discussion Feeds, Chat and Group Chat, Document Collaboration, Task Management, Video Conferencing, Messaging, User-Personalized Dashboards, Twitter Feeds, Note Tracking, RSS Feeds, HIPAA-Compliance, Mobile Access and Unlimited Productivity. Businesses requiring additional Workspace Ownership, Workspace Membership, File Storage and File Size Limits may consider the Business or Enterprise plans, but any business user can sample this intuitively designed application with no charge with the new pricing model.
The mission at BizAnytime is to "bring it all together in one simple tool" to help businesses save money and be more productive with one office suite at one low price. The need for such a product is staggering. With 3 in 4 small businesses using more tools than needed and 76% of all businesses relying on multiple paid services to manage their daily routines, costs can go up dramatically before the business really knows what they're getting into. These are just a few of the digital services that small businesses rely on to support their operations, and their average monthly cost per user:

Webex: +$30
Skype: approximately $20
Dropbox: approximately $10
Google Apps: approximately $10
Office 365: approx. $20
BizAnytime sought to create a cloud-based collaboration tool that could do many of the things these other services do, if not everything and more, for as little as $10 a month for the Business plan or absolutely free at the entry level. Considering that 42% of businesses use the above tools less than five times a month, 63% don't even know what tools they have and can use, and 72% of all users are overwhelmed by large and complex tools, it's clear that the demand for a simpler collaboration application is high.
For more information, visit http://www.bizanytime.com/select-plan.
About BizAnytime:
The BizAnytime cloud-based collaboration system provides advanced tools for project management and cooperation among colleagues, clients and vendors. The company offers a range of services that include the following:
Shared Workspaces/Projects
Project and task management tools
Ongoing discussion feeds
Chat programs
File storage and sharing functions
Document and project collaboration
Video conferencing tools
Prices start at $10 per month for this advanced suite of cloud computing services.