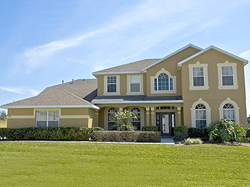 'One of the funnest places in the world to spend Halloween, and you can even take the kids trick or treating because villa4less rental homes are in great neighborhoods' -Nicki Sanders
Orlando, FL (PRWEB) August 28, 2013
Villa4Less three bedroom vacation rentals in Orlando, Florida are renting quickly as families travel to the area in to participate in a month of Halloween excitement at the local theme parks. Halloween in Central Florida is more than a one night trick-or-treat. The treats begin in early October and the finale is on October 31. The trick is finding available homes for rent in Orlando.
Mickey's Not So Scary Halloween Party
Guests look forward to Mickey's Not So Scary Halloween Party which begins on October 10 and continues through the month of October. The Disney World after hours celebrations host fireworks, Parades, candy stations, special shows and events featuring the Disney characters. Villa4Less property management agents are now managing condo vacation rentals Orlando has available downtown.
Vacation Rental Homes Offer More
The condo vacation rentals are fully furnished luxury suites with views of the city and they are central to the Halloween events. Amenities offered by rental agencies exceed those a traditional hotel can offer. Condos and homes have more room and flexibility than hotels are able to provide. The rental homes in Orlando are located in the downtown area and outlying areas that offer luxury with private swimming pools and game rooms when requested during the reservation process.
Universal Studios and Sea World Events
Universal Studios Orlando takes guests on Halloween Horror Nights beginning two-weeks prior to Halloween. Guests will get to explore haunted houses with creepy names like "The Walking Dead" and the "Evil Dead." The horrors of the haunted houses are open until the end of the month.
Sea World goes Halloween with the Spooktacular events held every weekend until the end of the month. There are Halloween costumed characters, a party zone, a muppet stage show and other special events going on each Saturday and Sunday. The Sea World Spooktacular is included in the price of guest's regular admission.
Tourists Like Vacation Homes
With these family-fun Halloween events beginning soon, three bedroom vacation rentals in Orlando are renting quickly. Traditionally, tourists stay in hotels during their travels through Florida. However, the popularity of vacation rentals has grown and are more popular than ever.
Tourists have room to move around and the luxury homes come with linens already in the closets, plus full kitchens with cookware and dishes. The option of a private swimming pool, spa and game room appeals to travelers, as well.
Downtown Homes are Convenient
Downtown Orlando vacation rentals are central to the theme parks and shopping. Families feel more at home in a Villa4Less vacation home than at a hotel and they can eat around a dining room table for family meals. No noisy, crowded restaurant unless they want to go out and the expense of eating in restaurants every day is decreased.
Disney World, Universal Studios Orlando and Sea World are gearing up for a frightening October of fun while vacation homes are filling up with guests looking forward to the different Halloween events. Tourists wanting to join the fun, plan the trip now before the homes for rent in Orlando fill-up.