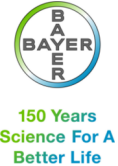 "It's pretty simple really; easy to apply, a lot smaller quantity. It worked equal or better than regular talc; absolutely no issues whatsoever," said Ed Benjamins, a grower from Ontario, Canada.
DECATUR, Ill. (PRWEB) August 27, 2013
As part of its commitment to sustainable agriculture, Bayer CropScience today announced very favorable field trial results of its new seed application technology, which is designed to further reduce potential dust exposure to honey bees during a typical planting process, while offering improved handling efficiencies to corn farmers.
The use of lubricants, such as talc and graphite, are a standard recommendation by seed planter manufacturers to reduce friction and improve uniformity, but recent scientific publications on this topic have triggered a debate as to the relationship between the already low level of exposure of dust from these planters and potential acute effects on bees. As an alternative, the new Bayer fluency agent– made of a polyethylene wax substrate – was shown to significantly decrease dust and emissions during laboratory testing:
o Ninety percent reduction in total dust versus talc
o Sixty percent reduction in total dust versus graphite
To follow up on the promising laboratory research, this past spring, Bayer conducted large-scale field studies – covering more than 40,000 acres – throughout North America with growers and in collaboration with major planter manufacturers in the U.S. and Canada. The purpose of these trials was to evaluate the new fluency agent's commercial viability under field conditions.
"We were impressed by the success of this new fluency agent when we examined the field trial results," said Bill Hairston, director of product development, SeedGrowth, Bayer CropScience. "Although potential exposure from corn planting is relatively rare, cooperation among applicators, growers and beekeepers is a critical part of effective best-management practices for seed treatment applications and important for pollinator health."
Based on feedback, growers who participated in the trials thought the new fluency agent:

Performed equal to or better than comparable talc or graphite lubricants;
Was less dusty during application and was easier to avoid dust when checking boxes; and
Showed equivalent results at significantly lower use rates than talc when comparing planting uniformity.
When asked to describe his experience with the Bayer fluency agent, Ed Benjamins, a grower from Ontario, Canada said, "It's pretty simple really; easy to apply, a lot smaller quantity. It worked equal or better than regular talc; absolutely no issues whatsoever."
Bayer will finalize its analysis of the results of the field trials and work with growers, planter equipment manufacturers and other stakeholders to determine the commercial viability of its fluency agent.
Bayer has been actively involved in finding solutions to improve honey bee health for more than 25 years. Its Bee Care Program includes initiatives designed to further bee health research, engagement and discussion and bring Bayer's extensive experience and knowledge in bee health under one platform. Bee Care Program initiatives include:
Bayer is dedicated to crop protection and is committed to environmental stewardship and sustainable agricultural practices, including the protection of beneficial insects such as honey bees.
For additional information and background on other sustainability initiatives please visit http://www.bayercropscience.us/our-commitment/bayer-initiatives. You can also follow and share with us on Twitter @BayerBee Care, on Facebook at facebook.com/BayerBeeCareCenter and view photos on Flickr.
###
About Bayer CropScience
Bayer is a global enterprise with core competencies in the fields of health care, agriculture and high-tech materials. This year the company is celebrating 150 years of Bayer – consistent with its mission "Bayer: Science For A Better Life". Bayer CropScience, the subgroup of Bayer AG responsible for the agricultural business, has annual sales of EUR 8,383 million (2012) and is one of the world's leading innovative crop science companies in the areas of seeds, crop protection and non-agricultural pest control. The company offers an outstanding range of products including high value seeds, innovative crop protection solutions based on chemical and biological modes of action as well as an extensive service backup for modern, sustainable agriculture. In the area of non-agricultural applications, Bayer CropScience has a broad portfolio of products and services to control pests from home and garden to forestry applications. The company has a global workforce of 20,800 and is represented in more than 120 countries. This and further news is available at: press.bayercropscience.com.
Contact:
Bayer CropScience Media Hotline, 1-877-879-6162, or
Beth Roden
Director of Communications & Bayer CropScience NA Coordinator
Bayer CropScience
Tel: (919) 549-2030
Email: beth(dot)roden(at)bayer(dot)com
Catharine Montgomery
Porter Novelli
Tel: (404) 995-4521
Email: catharine(dot)montgomery(at)porternovelli(dot)com
USA-BCS-2013-0248
Find more information at bayercropscience.us.
Forward-Looking Statements
This release may contain forward-looking statements based on current assumptions and forecasts made by Bayer Group or subgroup management. Various known and unknown risks, uncertainties and other factors could lead to material differences between the actual future results, financial situation, development or performance of the company and the estimates given here. These factors include those discussed in Bayer's public reports which are available on the Bayer website at bayer.com. The company assumes no liability whatsoever to update these forward-looking statements or to conform them to future events or developments.