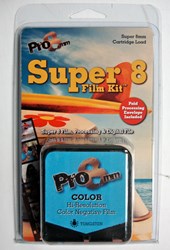 "A common anecdote among Cinematographers is how the Super 8 films they shot during their youth put them on their career paths." - Bob Fisher, Cine Journalist , President CCS Public Relations
Burbank, CA (PRWEB) August 29, 2013
Pro8mm has long been recognized as innovators in the film community for pushing the tiny Super 8 Film format to its maximum potential. In response to requests from memory makers and content creators wanting an alternative analog filmmaking experience, Pro8mm is offering a new product to meet this demand. Current trends of an analog movement are evident. Vinyl record sales are the highest they have been in 15 years. Polaroid Impossible film is a global phenomenon, now being offered in major retail outlets. The next wave in this analog revolution is Super 8 motion picture film, affordable and accessible to the public in photographic stores and retail stores around the country.
The Super 8 Film Kit includes film stock that is made from 35mm motion picture film, the same film stocks studios use to create feature films, music videos, commercials, and television shows. Modern film stocks produce amazing results over a wide range of exposure and conditions. The grain and texture of shooting on real film evokes both warmth and a feeling of nostalgia that offers users a dramatic contrast to what is captured on a digital camera. The film retains the analog look when scanned to digital files, making it easy to use real film but bring it into a digital device. The undisputable archival benefits of capturing images on film insures that what is shot today will be able to be seen decades into the future.
Super 8 filmmaking has had a long history of being the way families documented their lives. For many famous Cinematographers, the home movie camera was the gateway to their future career. The Super 8 Film Kit offers the tools needed to explore the fundamentals of film technology, giving renewed opportunities to use Super 8 film in a modern platform for both personal memories and professional endeavors.
The Super 8 Film Kit will work with any super 8 camera. Cameras are abundant and easy to find inexpensively on line, in thrift shops, at yard sales, or from a relative who may have shot Super 8 home movies between 1965 and 1985. Restored Super 8 cameras are also available from Pro8mm. Shooting tips are available inside the Super 8 Film Kit and on the Super 8 Film Kit website.
Three versions of the film kit will be available so consumers can choose for shooting in bright interiors, in bright sun, or in low light.
See an example of a film made with the Super 8 Film Kit at https://vimeo.com/71593821.
To learn more about the new Super 8 Film Kit contact Jaclyn Vigeant, Marketing and Events, 818-848-5522 or visit http://www.super8filmkit.com. To learn more about Pro8mm, visit http://www.pro8mm.com.