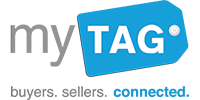 "myTAG is fun, fresh and trustworthy. Once people try our system, they'll use it forever," says Kelly Clonan, VP of Marketing.
SAN JOSE, CA (PRWEB) August 29, 2013
myTAG, the new local ecommerce platform that aims to compete with ebay and Craigslist due to its unique incorporation of social media elements with buying and selling aspects, announced its opening of Beta testing. People can register for this rare opportunity to begin using what will soon be a household name by going to http://testers.mytag.com/tester-form/.
myTAG uses a patent-pending platform combining hashtags or keywords to match buyers with sellers seamlessly and easily. People simply input items for sale or desire and matching items appear on their profile page. It also uses an innovative rating and required feedback system, wherein people earn vouches for transactions completed smoothly and safely, to help others know whether or not to trust a person with whom they deal.
"myTAG is fun, fresh and trustworthy. Once people try our system, they'll use it forever," says Kelly Clonan, VP of Marketing. "No other platform provides badges for milestones completed – really getting people involved in our system – or vouches for credible transactions completed. I think myTAG will take off quickly and become a very well-known brand."
In addition, myTAG differs from sites such as ebay and Craigslist in many ways. First, sellers cannot only describe and post photos of their items, but also create a video of them to show how realistic they are. This allows buyers to better trust the items. Also, myTAG asks people to validate their other social media profiles, such as Twitter, Facebook and LinkedIn, and their ebay and Amazon ratings so they can gain more credibility. The more links they offer, the better they stand in the myTAG community.
Pham knows he's onto something innovative and expects many users to sign up for Beta testing since it's free, fun and unique.
About myTAG:
Founded in 2011 by CEO Tony Pham, myTAG allows local users to buy and sell online free. It's building an online community for people to find each other using a patent-pending tagging system. This interactive social utility platform lets users create their own price "TAGS" for the things they're selling or wish to buy. myTAG then seamlessly connects these "TAGS." Additionally, people can view seller ratings and user feedback so they can better decide with whom they trust to do business. Buyers and sellers connected. Finally. Without headaches, fear or fees.
Contact:
Kelly Clonan
VP of Marketing
myTAG, Inc.
408.780.4089
kellyclonan(at)mytag(dot)com
http://mytag.com