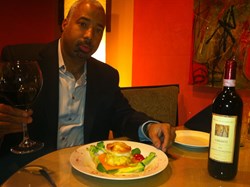 It's all about having a great dining experience.
Los Angeles, CA (PRWEB) August 28, 2013
The fun starts on Tuesday night featuring the legendary Blues songstress, Barbara Morrison. Wednesday nights are anchored by the memorizing melodies of vocalist Michelle Coltrane.The week continues with 'Thursday Night Blues' with guitarist Shea Welsh, who brings a cadre of special guests each week to perform jazz, blues and R & B. Friday night features 'Jazzy Soul' with Jeff Robinson, while 'Saturday Night Live' is the aptly-titled weekend dinner show showcasing hot Latin Jazz with Bob DeSena. The Sunday Champagne Jazz Brunch features sax man Cal Bennett and is the perfect kick-off to the start of a new week.
PIPS on La Brea has already made a name for itself as a bastion of simple elegance and savory food from its home on a historic strip of South La Brea Avenue. The location brings with it a history of classic Italian food, being the former home of popular neighborhood restaurant Anna Maria's. And like its predecessor, PIPS has brunch and dinner menus featuring a mix of sophisticated Italian entrees and "feel-good" pizza and pasta dishes – some of them adapted from Anna Maria's original recipes. With what has become their signature Sunday Champagne Jazz Brunch, you will enjoy a delicious omelet bar, champagne, and mimosas alongside zesty versions of old standards such as pepperoni pizza and spaghetti Bolognese, PIPS satisfies tastes both casual and indulgent for aficionados of Italian cuisine.
A result of the collaboration between Master Chef Luis Carizo Salvat and renowned jazz concert promoter Derrick Pipkin, PIPS is a labor of love for two men who have a great appreciation for fine dining in a quality atmosphere. That a South American chef with international training and an African American event promoter with a background in producing and hosting LA's most exclusive events and parties would combine their passions in the form of an eclectic Italian restaurant is a unique feature not lost on Pipkin. "I love producing memorable experiences. I wanted to have the best live music events, well I've accomplished that and I'm ready to use my talents within the restaurant industry," he says.
PIPS has quickly become recognized as a multi-faceted eating experience, with options for dining in, taking out, and catering. Its mid-city location makes PIPS a vibrant addition to the neighborhood. This newly renovated space is perfect for your next corporate or special event—holiday parties, private birthday parties, class reunions, product launches, album releases, wedding receptions, rehearsal dinners, and more. http://www.pipsonlabrea.com.