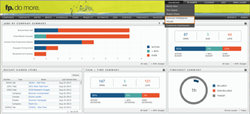 We've listened to our clients and worked hard to build a set of visual tools that will enable Function Point users to view important data summaries visually.
Vanouver, BC, Canada (PRWEB) August 29, 2013
Function Point Productivity Software Inc. announces their latest product release (August 2013) including 4 brand new tile options that enable users to customize their fp. Dashboard so that key business intelligence information can be viewed graphically. This is an important evolution in the product offering as fp. strives to make creative agency business intelligence data more accessible for users.
Function Point Releases 4 New Graphical Tiles (release documentation here)
4 New Graphical Tiles:
Function Point clients can now build dashboards to include 4 new business intelligence visual tiles that they can activate on their dashboard, or use on the "new dashboard" template:
1. Job Summary Tile:
The new Job Summary tile enables fp. users to view their open, due and late jobs at a glance, and also see how many of these jobs are within, over or getting close to budget limits.
The data is displayed in a graphical format showing "open jobs", "due jobs", "late jobs", and "budget" of jobs. Users can choose to filter the data in a variety of ways showing only jobs over budget, under budget or on budget, by "all jobs", or "my jobs".
2. Timesheet Summary Tile:
The new Timesheet tile enables fp. users to easy see how much of their time has been spent on billable and non-billable work. The tile can display billable and non-billable hours by staff member, set time frame or by a custom time frame.
3. Task Summary Tile:
Function Point clients can now see graphically how many tasks they have open, due and late, and whether these tasks are within, over or close to estimated budget levels.
This tile shows tasks that are assigned or in progress, tasks that are due within the next 7 days, late tasks, and also displays the estimated hours of all open tasks compared to actual hours tracked so far. Users can also filter by % of completed jobs, all jobs or jobs assigned to only to them.
4. Jobs by Company Summary:
This tile provides a quick summary of who are the most active companies in the user's fp. system along with a view of how the jobs are performing financially.
The top 5 most active companies (number of open jobs they have in the system) are shown. The tile also visually displays within budget versus actuals, jobs whose actual budget costs are an adjustable percentage greater of the estimate, and jobs whose actual values have exceeded the estimate. There are also some customization options available for this view.
What this upgrade means to fp. clients:
"We're proud of this improvement to our already top-notch productivity software and believe that this marks an evolution of our user-interface into a more visually appealing and user-friendly experience our clients in the creative industry expect and want in our competitive market. Having these key business intelligence metrics at their fingertips will help creative and interactive agencies manage their workflows with greater accuracy." - Chris Wilson, President & CEO, Function Point Productivity Software
"Initial feedback on these improvements has been very positive and we look forward to hearing more from our clients as they begin to interact with these new summary tiles on their fp.Dashboards." - Tate Lillies, VP Operations, Function Point Productivity Software
About Function Point
Function Point Productivity Software Inc. (Function Point) is a web-based software as a service (SaaS) company, and is located in Vancouver B.C. The company was founded in 1997 and is a worldwide leader in CRM, time tracking, invoicing, task, project and workflow management software for marketing companies, advertising agencies, design firms, and interactive web development companies with over 5000 active users worldwide.
Function Point is in business to help improve client profitability by providing a single integrated solution for managing the day-to-day challenges of running a growing creative firm. This cloud-based all-in-one integrated solution, fp., is specifically designed for creative agency management.
The software solution includes: customer relationship management (CRM), creative agency time and job tracking, project management, workflow management, estimating and invoicing, as well as optional integration to popular accounting packages such as QuickBooks and Simply Accounting.
With users around the world, including Canada, the United States, Brazil, Singapore, Dubai, the UK, Australia, South Africa, the Caribbean, and more, the Company is truly international and continues to perfect our business tool for increasing agency efficiency and profitability. Companies in all facets of the creative industries use Function Point, including ad agencies, digital agencies, web development and interactive agencies, interior designers, architects and consultants to name a few.
The company prides itself on its best-in-class customer service, and backs everything with a 60-day, 100% money back guarantee.