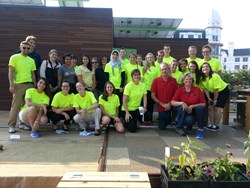 San Diego,CA (PRWEB) August 28, 2013
Wounded Warrior Homes is the proud beneficiary of HARVEST HOME, a net-zero-energy house designed and built by a team of more than 100 students from three District of Columbia universities over the past year. Yesterday, Team Capitol DC revealed its energy-efficient home of the future to the public on the campus of The Catholic University of America (CUA) in Washington, D.C. The team is now kicking off a cross-country, weeklong journey to compete as one of 20 collegiate teams selected for the U.S. Department of Energy Solar Decathlon, which will be held Oct. 3-13 in Irvine, Calif.
The innovative solar home was uniquely designed for the recuperation of a wounded U.S. military service member returning from a combat zone, so it will be donated to Wounded Warrior Homes, an organization that assists in the recuperation of returning military veterans. HARVEST HOME will arrive in San Diego in October after the conclusion of Solar Decathlon 2013, an international sustainable home competition.
"We are thrilled to have the opportunity to receive this residence for our wounded warriors," said Mia Roseberry, Co-Founder and Executive Director of Wounded Warrior Homes. "The home is an ideal addition to our transitional housing program because it is custom-designed to meet the needs of returning troops who may be physically injured or struggling as a result of their recent military experience."
"When we first began designing our home, we knew we wanted our house to serve a purpose long after the competition," said student team member spokesperson Claire Ainsworth. "By creating a home concept that both effectively helps the environment and helps those who have served our country, we believe we have designed a practical and responsible home that we are excited to donate to Wounded Warrior Homes."
The acceptance of HARVEST HOME and ability to move the property to its permanent location in Vista, Calif. would not be possible without the generous support of sponsors like Veterans United. Veterans United is the nation's number one dedicated VA Loan provider.
About Wounded Warrior Homes:
Wounded Warrior Homes is a 501(c)3, charitable nonprofit organization that serves single post 9/11 combat veterans with Traumatic Brain Injury (TBI) and Post-Traumatic Stress (PTS). Its mission is to provide affordable transitional housing, hands-on resources, and a defined path for each member to transition from active-duty military service to independent living as a veteran of foreign wars. http://www.woundedwarriorhomes.org
About Team Capitol DC:
For the first time, a city-wide Washington, D.C., collegiate team – The Catholic University of America (CUA), the George Washington University (GW) and American University (AU) – will compete as Team Capitol DC in the U.S. Department of Energy Solar Decathlon 2013.
Web: http://www.TeamCapitolDC.org
Facebook: Facebook.com/TeamCapitolDC
Twitter: @TeamCapitolDC
About Harvest Home:
Team Capitol DC's concept is HARVEST HOME, an innovative house of the future that harvests natural resources to power the home while maintaining comfort for its ideal resident, a wounded American veteran who has returned from the wars in Iraq and Afghanistan. After competing in the U.S. Department of Energy Solar Decathlon 2013, Team Capitol DC will donate HARVEST HOME to Wounded Warrior Homes. Through harvesting natural resources, comforting design features, and an innovative biomedical atmosphere that contributes to rehabilitation of body and spirit, HARVEST HOME will help heal its resident and the environment.
About The U.S. Department of Energy Solar Decathlon:
The U.S. Department of Energy Solar Decathlon is an award-winning program that challenges collegiate teams to design, build, and operate solar-powered houses that are cost-effective, energy-efficient, and attractive. The winner of the competition is the team that best blends affordability, consumer appeal, and design excellence with optimal energy production and maximum efficiency. The first Solar Decathlon was held in 2002; the competition has since occurred biennially in 2005, 2007, 2009, and 2011. The U.S. Department of Energy Solar Decathlon 2013 will take place Oct. 3–13, 2013, at Orange County Great Park in Irvine, Calif. http://www.solardecathlon.gov