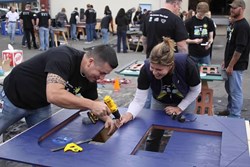 I was truly heartened to see the passion and creativity of our employees come to life to put smiles on the faces of the families who came to receive their playhouses last year. (Mike Thompson, President & CEO)
Campbell, CA (PRWEB) August 28, 2013
Groupware Technology, Inc., a leading information technology solution provider, today announced it will host the second annual Habitat for Humanity Playhouse Build Project at its headquarters in Campbell, CA on Friday, September 6th, 2013.
Six teams of employees from the company will team up with local charities to build six children's playhouses. The custom-designed playhouses will be donated to three local non-profits:

Compass Family Services
Cystic Fibrosis Foundation – Northern California Chapter
South Bay Blue Star Moms
Groupware contributes a donation to Habitat for Humanity Silicon Valley (HfHSV) to cover the cost of materials and to support the Habitat for Humanity mission. HfHSV will provide the plans and raw materials for Groupware to build, design and decorate the playhouses.
Groupware employees, their families and technology partners will complete all aspects of construction including painting, roof construction, and fabrication of sides, windows, door and assembly of the units. Ted Becker, head of the Playhouse Program for HfHSV, stated, "We're happy to have Groupware Technology back building for us this year, their event was a big success last year and their support of Habitat for Humanity has grown."
"I see the commitment and enthusiasm that our employees bring to their work in Information Technology every day, but I was truly heartened to see their passion and creativity come to life to put smiles on the faces of the families who came to receive their playhouses last year," said Mike Thompson, president and CEO of Groupware Technology. "We're pleased to be able to advance the Habitat for Humanity charter and I'm eager to see what this year's Playhouse Build brings."
What: Playhouse build project onsite at Groupware Technology headquarters. 75+ employees, customers and partners will build and design six different playhouses for local charities. Event will be held outdoors and will includes BBQ, music and kid-friendly activities.
Where: Groupware Technology headquarters, 511 Division St, Campbell, CA 95008
When: Friday September 6th, 1:00 pm – 7:00 pm. The receiving organizations and families will arrive at approximately 5:30 for the BBQ and to view and pick-up their completed houses.
About Groupware Technology
Groupware Technology, Inc., headquartered in the San Francisco Bay Area, is a leading information technology solution provider with offices in Portland, Oregon and Seattle, Washington. The company provides enterprise technology solutions to its customers in commercial, healthcare and government markets. Groupware specializes in storage, security, networking and enterprise systems and software. For more information, contact (408) 540-0090 or visit groupwaretechnology.com.
Follow us on:
Facebook: http://www.facebook.com/pages/Groupware-Technology-Inc/178627312150860
LinkedIn: http://www.linkedin.com/company/groupware-technology
About the Cystic Fibrosis Foundation
The Cystic Fibrosis Foundation is the world's leader in the search for a cure for cystic fibrosis. The Foundation funds more cystic fibrosis research than any other organization, and nearly every CF drug available today was made possible because of Foundation support. Based in Bethesda, Md., the Foundation also supports and accredits a national care center network that has been recognized by the National Institutes of Health as a model of care for a chronic disease. The Cystic Fibrosis Foundation is a donor-supported nonprofit organization. For more information, go to http://www.cff.org.
About Compass Family Services
Since 1914, Compass Family Services has helped San Franciscans in need. Each year, Compass assists more than 3,000 homeless and at-risk parents and children to achieve stability and self-sufficiency. Compass is the gateway to services for any SF family facing a housing crisis. Its services include intake and referral to shelter, emergency shelter, transitional housing, and childcare—in addition to a broad spectrum of counseling, parenting education, prevention, and support services. With its deep understanding of homelessness and personalized support, Compass helps clients regain a solid footing and move toward long-term stability. Cutting-edge and client-centered, Compass gives a leg up –not just a handout. http://compass-sf.org/
About South Bay Blue Star Moms
The South Bay Blue Star Moms is a military support group based in the Silicon Valley area of California, especially dedicated to supporting the troops and assisting the mothers and their families who have children serving in the United States military. A chapter of the Blue Star Mothers of America, the South Bay Blue Star Moms provide military family support in the San Francisco South Bay area in Northern California. http://www.southbaybluestarmoms.org/index.php