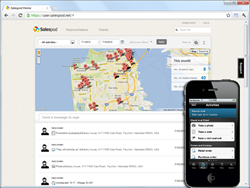 Salespod expands with office space as flexible and innovative as its field activity manager.
Boston, MA (PRWEB) August 28, 2013
Salespod, Inc., the maker of the field sales and retail merchandising automation tool Salespod, reported today that it has opened a sales and support office in Worcester, MA to accommodate its rapid growth. The new facility is housed within Running Start, a new co-working facility that provides collaborative office space to entrepreneurs. Salespod has reserved private office space within the facility's 7,500 square foot renovated mill complex located in Worcester Polytechnic Institute's Gateway Park. "The Running Start co-working facility gives us everything we need at this stage of accelerated growth", said Salespod U.S. General Manager Matthew Brogie. "We have flexibility to expand our space as we continue to grow, in a space that is buzzing with entrepreneurship and is very accessible to the high-tech professionals in Boston's metro-west region."
Salespod makes a Cloud and Mobile solution used to manage Field Sales, Retail Merchandising and Field Marketing activities. The solution is used by companies all over the world to drive product sales, distribution, retail execution and market coverage across a wide range of industries.
The company was founded in Zagreb, Croatia in 2008, where product development is still based. Salespod was incorporated in the U.S. in 2012, and is in the process of building a global reseller network with relationships already established in South Africa, Indonesia and Poland.
Salespod is used in many industries to drive visibility, efficiency and accountability into Outside Sales, Merchandising and Marketing organizations. The cloud based solution is changing the way that companies manage their mobile workforce by leveraging mobile technologies to greatly streamline how information moves between the field and the back office. Known as an Agile Field
Sales solution, Salespod drives efficiency in the mobile workforce by providing high value functionality on smartphones and tablets, including:

geo location for tracking field reps and their activities
managing customer information,
gathering data using custom forms and surveys,
collecting orders,
capturing photos and,
conducting price checks.
"Our customers are spread all over the world," said Brogie. "Because Salespod is Cloud Based, and designed to be completely self-service, we can support our customers from anywhere. Our new space is as flexible and innovative as our software!"
About Salespod:
Salespod specializes in developing mobile software solutions for enhancing sales processes for the FMCG (fast moving consumer goods) industry, the pharmaceutical industry and the cosmetic industry. Since their founding in 2008, the vision has been to offer the most comprehensive and convenient mobile solutions on the market for sales and mobile management. Coined the "swiss army knife for your mobile workforce", the software is used by L'Oreal, Lavazza, Keune Haircosmetics, Julius Meinl, Jaegermeister and many others. Salespod's solution is poised to change the way field sales teams communicate, collaborate, and conduct business. This is a fundamental shift occurring in outside sales and merchandising. Gone will be the days of clunky CRM systems. For more information or a free trial, go to http://www.salespod.net. For industry news and reports, visit the Salespod blog at http://www.salespod.net/blog/all-news/ or Twitter.com/salespod.