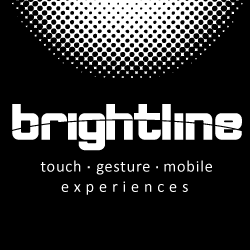 (PRWEB) August 28, 2013
A unique and completely interactive experience, Social Concert, presented by Brightline Interactive, is set to debut at SXSW 2014—but not without your help.
The session, titled "The Social Concert: Taking Physical to Digital," will be unlike any other at SXSW presentation: an event featuring live music, technology, and, most importantly, the audience, all unified by social media. Attendees will star in their own music video, integrating the advanced interactive technology of a mobile broadcast studio.
Social Concert works like this: a live band plays well-known songs, ranging from pop to hip hop to country to oldies. Attendees enter the Social Stage and sing along in front of a green screen. Once their piece is recorded, they can share it instantaneously to their networks.
Attendees will learn about incorporating cutting-edge technology into live events via social machines—experiences that take a physical action and turn it into a digital result. Brightline will also have other social machines like the Twitterballoon—when users tweet to a SXSW-specific hashtag, causing air to be blown into a large balloon, which eventually pops and incentivizes the popping tweeter—to engage the audience.
#socialconcert is now available to voting and sharing on SXSW's PanelPicker. The PanelPicker is a two-step online process that allows the SXSW community to have a significant voice in programming during the conference. A crowdsourced application process, PanelPicker's popular vote is 30% of the final decision ensuring #socialconcert will launch during SXSW 2014.
To vote for #socialconcert, click here.
About SXSW Conferences & Festivals
The South by Southwest® (SXSW®) Conferences & Festivals offer the unique convergence of original music, independent films, and emerging technologies. Fostering creative and professional growth alike, SXSW® is the premier destination for discovery. Year after year, the event is a launching pad for new creative content. New media presentations, music showcases and film screenings provide buzz-generating exposure for creators and compelling entertainment for audiences.
About Brightline Interactive
Brightline Interactive is an award-winning, multi-discipline digital services agency that delivers creative solutions for web, mobile and experiential environments. Based in Alexandria, Virginia, Brightline develops, delivers, and promotes branded solutions for both the public and private sectors by blending creativity and expertise of any and all media and technology available. For more information, see http://brightlineinteractive.com/.
###