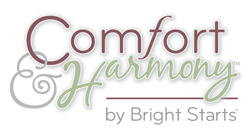 (PRWEB) August 30, 2013
Breastfeeding rates are rising across the county, reported CBS News (8.1.13). The Centers for Disease Control and Prevention's 2013 Breast Feeding Report Card found that 77 percent of new mothers are breastfeeding their babies. This is a 4 percent increase compared to ten years ago. With so many moms choosing to breastfeed, a good baby gift to consider is the mombo™ nursing pillow from Comfort & Harmony™, a Kids II® brand.
Close to half of moms breastfeed for at least the six months recommended by the American Academy of Pediatrics, said CBS News. The new report tracked trends in U.S. breastfeeding rates from 2000 through 2010.
The general belief is that babies who were breastfed have lower risks of certain conditions, including ear and gastrointestinal infections, asthma, childhood leukemia, and diabetes.
Mombo nursing pillows are specially designed to make breastfeeding easier for mom and baby both. The two-sided design called Firm2Soft™ gives mom and baby extra support on the firm side, so both can stay in a comfortable position while nursing. The other side of the pillow, the soft side, can be used for lounging, tummy time and as a support for baby when she or he begins to sit up. The pillow also features a removable vibration unit that soothes baby.
According to the new CDC report, in 2010, 27 percent of mothers continued breast-feeding when their child was 1-year-old. Forty-nine percent of mothers breastfed their child for close to six months.
About Comfort & Harmony™
The Comfort & Harmony brand is designed to exceed baby's comfort needs while appealing to mom's sense of style. Thoughtfully designed to create a supremely cozy environment for baby in sweet and heartwarming fashions that mom adores, the brand offers nursing pillows, swings, bouncers, shopping cart covers and rockers. Every Comfort & Harmony product incorporates nurturing features, such as ergonomic designs and plush fabrics that pamper mom and baby where it's needed most.
Headquartered in Atlanta, Georgia, Comfort & Harmony is one of the seven brands under Kids II, Inc., manufacturer, designer and marketer of toys and baby gear. Visit http://www.kidsii.com.
About Kids II®, Inc.
Kids II has been inventing and reinventing baby and infant toys and gear for more than 40 years and has quickly become one of the world's fastest growing baby product companies. Headquartered in Atlanta, Kids II spans globally with operations in six continents serving customers in more than 70 countries. Driven by innovation, design and a comprehensive brand portfolio, Kids II is the next generation leader of baby and infant products.
Kids II designs, markets and distributes more than 400 unique baby and infant products, selling more than 22.8 million items per year. On average, it launches 125 new products a year. Under its flagship brands, Kids II has produced more than 100 award-winning products.
The brand portfolio strength runs deep under the Kids II umbrella, which includes its signature brands Bright Starts™, Ingenuity™ and Comfort & Harmony™, as well as licenses to design and manufacture products for Disney Baby™, Baby Einstein™, Oball™ and Taggies™.
Kids II's international affiliate operations are located in Australia, Canada, Europe, China, Hong Kong, Japan, Mexico and South Africa. Visit http://www.kidsii.com.