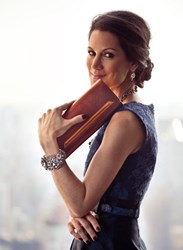 YLIANA YEPEZ's handbag collection has been discovered by fashion's "It" girls such as Cara Delevingne and Olivia Palermo.
New York, NY (PRWEB) August 28, 2013
YLIANA YEPEZ's premier collection has just bowed at YlianaYepez.com, select Bloomingdale's, and specialty stores nationwide.
The luxury handbag line is priced from $495 for a mini cross-body bag in tie-dye leather to $1,195 for the signature Capri backpack in leather with metal spike hardware as worn by Cara Delevingne.
COLLECTION: Yliana Yepez designs her collection of accessories for a modern, fashion-forward woman whose high expectations are shaped by her demanding and dynamic lifestyle. Her range of designer bags share a sleek, graphic aesthetic that speaks to the fashion-set, yet is conceived to meet the needs of real life.
ABOUT THE DESIGNER: Born in Paris, France; raised in Caracas, Venezuela and Beijing, China; and now living in New York City with her family, Yliana Yepez is truly a global citizen. From an early age, Yliana traveled the world with her father, an army general, and her mother, an academic, which helped cultivate her international style and sophisticated aesthetic.
At 14, Yliana began a successful modeling career, appearing in TV commercials, runway shows and on magazine covers. Inspired by the high-fashion labels she modeled, she soon began designing her own clothes and accessories to emulate the luxury fashions of the day. By the age of 23, she and a college friend launched BLUES by kyky, which became one of the most popular accessory brands in Venezuela.
Now, 20 years later, Yliana has embarked on building a signature luxury accessories brand that reflects her high fashion sensibility and her multi-faceted lifestyle. The first YLIANA YEPEZ collection received immediate recognition in the fashion press, with editorials in InStyle, Glamour and WWD.
In addition to being CEO and Creative Director of YLIANA YEPEZ, Yliana is philanthropically involved with the DiMenna Children's History Museum in New York City as well as other cultural and charitable organizations.
For more information, visit: http://www.ylianayepez.com/.