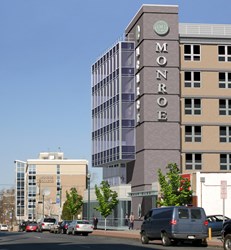 New Rochelle, NY (PRWEB) August 28, 2013
Just about three months into construction, Monroe College is making progress on its six-story dormitory in downtown New Rochelle. The Main Street location, once a Monroe College parking lot, is now bustling with machinery and construction workers, aiming to complete the project in time for the 2014 fall semester.
"We're gaining momentum," comments Monroe College Executive Vice President, Marc Jerome. "It's still a bit hard to imagine that in just about a year from now, a six-story building will be standing tall, but I'm looking forward to the outcome. It'll be an exciting day when we can open the doors to our students."
Currently dubbed West Hall, the new building will house approximately 300 students, allowing the College to consolidate its existing dormitory locations, which are now dispersed throughout the downtown New Rochelle area.
"We're not increasing our housing – we're centralizing it," explains Jerome. "We want to utilize Main Street to build upon the heart of our New Rochelle campus. This will not only create a more traditional college feel, but it will help to bring more life to the downtown area."
Designed by Doban Architecture and constructed by Holt Construction, the dormitory will be built similarly to what is designed to be its sister building, Allison Hall. Allison Hall was constructed by the same entities in 2004.
"We wanted to create almost a mirror image of Allison Hall, using similar materials and colors within the new building," says Susan Doban, CEO of Doban Architecture. "It will be a modern but comfortable haven for the students."
In addition to dormitories, West Hall will also offer seven classrooms, a fully-modernized computer lab, and common spaces for the students to eat, relax, or study – including an outdoor plaza with a large seating area and beautiful landscaping.
"It's going to be a great addition to our campus," says Jerome. "And, I think, to the city as well."