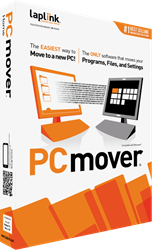 Users simply select their preferences and walk away, leaving PCmover to handle the rest.
BELLEVUE, Wash. (PRWEB) August 27, 2013
Microsoft announced it will be ending support for Windows XP by April 8, 2014. Users now face the decision of upgrading to Windows 7, upgrading to Windows 8, or sticking with XP at their own risk. Laplink Software, Inc. makes the decision easy with PCmover, a hassle-free migration solution.
With Windows XP still holding a 37 percent share of all desktop operating systems, many users will see an end to their patches, customer support, and updates. The hassle of transferring files, settings, and more keeps many PC users from upgrading. Some may contemplate sticking with Windows XP even after support ends, but the end of Windows XP support also means an end to security updates, leaving XP users vulnerable to hackers, attackers, and more.
"PC users who don't upgrade are leaving their systems open to security risks and will see a lack of support from new applications and hardware," explained Laplink's CEO, Thomas Koll. "The simplicity of PCmover makes the decision to upgrade an easy one."
Continuing usage of Windows XP is also associated with higher costs. A lack of support and maintenance from Microsoft will force users to seek maintenance elsewhere and solve their own errors. This will lead to more money, time, and resources being wasted. PC users can avoid all this hassle by making a quick, easy upgrade to Windows 7 or 8 with PCmover.
PCmover is the number one, best-selling application for PC-to-PC migration and is the ONLY software that moves applications installed and ready to use to a new PC. With just a few clicks using the step-by-step wizard, PCmover automatically moves all the programs, files, and settings a user selects for a complete upgrade to Windows 7 or Windows 8.
"PCmover has a unique 'set it and forget it' operation," said Koll. "Users simply select their preferences and walk away, leaving PCmover to handle the rest."
PCmover comes with 24/7 Free Transfer Assistance from certified migration experts, an easy "undo" feature that quickly reverses changes made to a new PC, and multiple connectivity options.
There are several versions of PCmover available from Laplink, each one tailored to fit a different need. To learn more about which version of PCmover is right for your transition, visit Laplink online.
About Laplink Software, Inc.
For nearly 30 years, Laplink has been the leader in providing software used for PC migration, remote access, file transfer, and synchronization. The privately-held company was founded in 1983 and is headquartered in Bellevue, Washington.