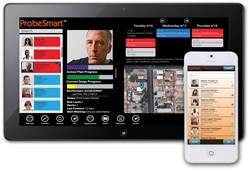 Staying abreast of information is critical to improving outcomes for departments responsible for community supervision
Las Vegas, Nevada (PRWEB) August 28, 2013
Clark County Nevada's Department of Juvenile Justice Services is deploying mobile risk prevention technology, becoming the nation's first Probation Department to equip Officers with predictive intelligence in the field.
This dynamic mobile system developed by GoldPost Technologies, Inc. (GPT), allows Probation Officers the ability to manage their clients based on feeds that can be as important as a client's recidivism risk, allowing officers the chance to react quickly to these alerts.
"Staying abreast of information anytime and anywhere is critical to improving outcomes for departments like Clark County, responsible for community safety and supervision," said Glenn Rouse, GPT's Vice President of Sales.
As the industry's first mobile application designed for critical real-time recidivism management, GPT's patent pending Linked Expert System Via Remote Interface (LynxVRI™), provides predictive intelligence and risk analyses via live feeds like GPS monitoring, school attendance, arrest alerts, and case plan progress. Officers also have the ability to access and update offender case information from the field, including everything from routine to emergency communications.
"Not only will Clark County Juvenile Probation Officers be able to respond to the highest risk offenders first, LynxVRI™ allows Officers to spend more time in the field helping clients and less time in the office managing files," added Rouse.
ABOUT CLARK COUNTY'S JUVENILE JUSTICE SERVICES:
The Department of Juvenile Justice Services is Clark County's comprehensive public service agency that performs more than the traditional Juvenile Court functions of probation and detention. The department provides intervention services, guidance and control for youth ages 18 and under who are involved in delinquency and truancy.
ABOUT GOLDPOST TECHNOLOGIES:
GoldPost Technologies, Inc. provides innovative enterprise mobile solutions and data intelligence technology for the management of public safety, corrections and law enforcement. GPT's product offerings include LynxVRI™, a real time risk assessment platform that is currently being used to monitor and manage risk of adult and juvenile probationers in the field and MobileCPS™, child safety risk assessment system specifically designed for Child Protective Services.