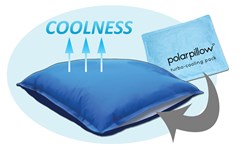 We designed the PolarPillow to provide a lasting dose of coolness, which can calm an overactive brain and lower overall body temperature – the key to a good night's sleep.
White Plains, New York (PRWEB) August 29, 2013
Hyberfit (a start-up company focused on designing high-performance sleep products) has revamped its award-winning cooling pillow -- the PolarPillow. The PolarPillow's cooling power can now be amplified with the inclusion of a refrigerated cooling pack that can be inserted into the center of the pillow. With this increased cooling functionality, the PolarPillow can quickly cool down a sleeper's head to help initiate sleep and provide cooling throughout the night.
The PolarPillow is intended for broad use, however it is especially helpful for people who overheat at night. This includes athletes, menopausal women and anyone under unusual amounts of stress.
Physically active people tend to create more body heat than the average person and often find overheating to be an impediment to sleep. According to Dr. Christopher Winter, a board-certified and nationally recognized sleep medicine doctor: "I have never encountered a professional baseball, football, basketball or hockey player who prefers a warmer sleeping environment to a colder one. Not one."
Menopausal women suffer from hot flashes and night sweats that can be incredibly disruptive to the sleep process. While warm pillows can exacerbate the problem by making the sleeper's head even hotter, a cooler pillow can provide relief.
Stress, in general, causes heightened brain activity, which is especially burdensome at night. This activity increases the brain's temperature, making it difficult to fall asleep. Cooling the head can help slow down this activity and allow the brain to rest.
"Today's hyper-connected world makes it harder than ever for people to shut down their mind and body at the end of the day. Never-ending mental activity causes our brains to stay hot into the night, which is problematic because the physiological trigger for falling asleep is actually a drop in body temperature. We designed the PolarPillow to provide a lasting dose of coolness, which can calm an overactive brain and lower overall body temperature – the key to a good night's sleep." - Nick Segal, Hyberfit Founder & CEO
While a few other cooling pillows are on the market, PolarPillow is the only one comprised of a liquigel interior, which allows heat to flow away from the head's point of contact on the pillow. Without a liquid interior construction, a pillow's cooling functionality is limited because it is difficult for heat to move away from the precise area the head is resting on (so the sleeper must constantly maneuver to find new, cool spots on the pillow). The PolarPillow is also the only pillow to include an interior pocket designed to fit a cold-pack. The cold-pack emits coolness that uniformly travels throughout the liquigel so that the entire top-side of the pillow maintains a steady coolness.
PolarPillow is sold exclusively online for $120 and comes with a 60-day money-back-guarantee plus a 1-year warranty on manufacturing and workmanship.
About Hyberfit and PolarPillow:
Hyberfit was founded by New York venture capitalist, inventor and Duke University graduate, Nick Segal. Hyberfit is a start-up company focused on high-performance sleep products based in White Plains, NY. The PolarPillow's design is patent-pending.
# # #
For more information please contact:
Molly Segal
molly(at)polar-pillow(dot)com
917-740-6581