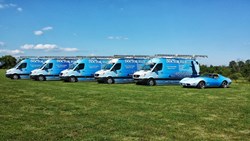 She's a head turner. It's fantastic!
(PRWEB) August 29, 2013
Doctor Flue, Inc.®, a Michigan chimney sweep company, recently purchased a 1975 Stingray Corvette to reward the Employee of the Week. Each employee will have the opportunity to drive the Stingray around for the week, if they are selected as the most deserving by the team. Doc is leaving it up to his sweeps and office staff to determine the winner each week.
"I want to cultivate a positive atmosphere here at Doctor Flue, so my sweeps and workers are happy. Happy and satisfied workers give better customer service," said Kevon "Doc" Binder, Owner of Doctor Flue, Inc.®.
Doc has a passion for Corvettes, and even owned a 1972 Stingray in his younger days. "If it was a '72 I wouldn't be sharing it," admits Doc. The Stingray features an L-48 engine, 350 HP, Turbo 400 transmission, and T-tops. The entire body is wrapped to match Doctor Flue, Inc.'s® distinctive Sprinter vans. The back license plate reads "My Week," and the hood is adorned with Doctor Flue, Inc.'s® logo. "She's a head turner. It's fantastic!" says Doc.
Aside from the branding aspect, Doctor Flue, Inc.'s® main focus of having the car is to 'give back' to their workers. Doc strives to create "extraordinary employees that meet our customers' needs" as well as "an employee-based company that the public can trust and be loyal to."
Doctor Flue, Inc.® doesn't just give back to employees; they also give back to a family in need several times a year. "Warm Homes, Warm Hearts" is a program in which Doctor Flue, Inc.® donates a wood stove and chimney installation, including all parts, tax, and labor, to a family (or individual) in need. The first annual cleaning plus wood is also included. Doctor Flue, Inc.® also gives back to his customers, by offering an exclusive trip to Aruba for one lucky winner each year.
Doctor Flue, Inc.® has offered fireplace installations and chimney services to Michigan and Ohio residents since 1986. Doctor Flue, Inc.® is owned by Kevon "Doc" Binder, and managed by his son, Kevon Jr. The company offers a huge selection of fireplaces, fireplace accessories, and chimney services. For more information visit Doctor Flue, Inc.® online at http://www.doctorflue.com. You may also call Doctor Flue, Inc. ® at 800-GET-FLUE or email them at office(at)drflue(dot)com.