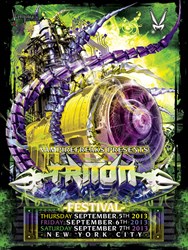 North America Should Have an Event of This Caliber
New York, New York (PRWEB) August 28, 2013
Vampirefreaks (VF) is excited to update the only three-day Goth, EBM and Industrial Music Festival in North America. Triton Festival, recharged after a three year hiatus, is bringing in bands from all over the world including Grendel (Netherlands), Nachtmahr (Austria), Faderhead (Germany) and Modulate (UK) after long absences in the United States.
Industrial Burlesque and Uber-Goth talent Kayvon Zand will be hosting a pre-party on Wednesday September 4th at Dorian Grey in New York with Anna Evans that is free to Triton Festival attendees (bring your tickets). Special guest Lordbone from Belgium will also be present!
On Friday September 6th, the Triton Festival Bar-B-Q will be held at Prospect Park in Brooklyn to give attendees from outside of New York and the United States a taste of the Boroughs beyond Manhattan.
Headlining Goth and Industrial music acts for the Triton Festival include:
The Birthday Massacre (Toronto, Canada)
Combichrist (Norway)
London After Midnight (Los Angeles)
The Cruxshadows (Florida)
Grendel (Netherlands)
Assemblage 23 (Seattle)
Faderhead (Germany)
The Dreaming (Los Angeles)
Psyclon Nine (Los Angeles)
Modulate (United Kingdom)
Nachtmahr (Austria)
To learn more about Triton Festival bands and artists, visit the links below:
http://tritonfestival.com
https://www.facebook.com/TritonFestival
Vampirefreaks founder, DJ, promoter and programmer, Jet, recognized the need to bring Triton Festival back to North America because of a significant void in dark, alternative Goth and Industrial music across the scene. The over 1.8 million members and fans of Vampirefreaks were asking for the return of Triton Festival along with related events. Recognizing the power of the dark aesthetic, Triton Festival is happy to announce its top sponsors that include Empire Harley-Davidson, Clan Luna, Alchemy of London, Gothic Renaissance and Dead Audio. Empire Harley-Davidson will be participating in a Goth girl photo session at the Triton Festival. A special black carpet photo session with VIP's and bands will also be held.
Jet made it very clear that there is every reason North America should have an event of this caliber to bring back more of the dark aesthetic culture. Limited numbers of tickets area still available for purchase at Vampirefreaks before they're sold out!
About Vampirefreaks.com: VF was founded in 1999 by software engineer and computer programmer, Jet Berelson. He originally created Vampirefreaks as a safe place for those who appreciated the dark aesthetic to hang-out online and it grew to over 7.5 million members over the last 13 years. Without being judged by "normals" and society at large, members and fans of Vampirefreaks could engage and exchange interest in Goth and Industrial music of all kinds, as well as dark, alternative fashion, art, literature and other interests. With over 12,500 musician and band profiles, over 1.8 million active members and hundreds of thousands of social networking fans, the VF community remains the largest Goth and Industrial online social network in the world. VF offers its members and fans live events such as the annual Halloween Massacre and monthly Cybertron music events, as well as an array of dark Gothic clothing, gifts, toys and accessories at its online Vampirefreaks Store. More projects are in the works to satisfy the fashion, make-up, cultural and lifestyle needs of its members and we welcome press and individual inquiries.