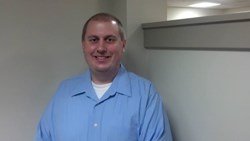 We are excited about Greg joining Modern. He brings leading edge marketing skills, said Paul Farrell
Bristol, PA (PRWEB) August 29, 2013
Greg Plefka has joined the Modern Group as a Marketing Associate effective immediately. Greg joins Modern from Vantage Learning where he worked in marketing for several years. He is a graduate of Lafayette College.
"We are excited about Greg joining Modern. He brings leading edge marketing skills, and we are looking to add value to our growing customer base by creating marketing programs to serve their needs", said Paul Farrell, Modern Group CEO.
"I am thrilled to be part of the Modern Group. Modern is growing and it's an exciting time to join. I hope to help Modern serve its customers even better in the years ahead", said Greg Plefka.
About Modern Group
Modern Group, one of the nation's leading equipment distributors, provides sales, leasing, short term rental, service, parts, training and financing solutions through its forklifts, power systems, construction, and warehouse products businesses serving Pennsylvania, New York, New Jersey, and Delaware. For more information visit http://www.moderngroup.com/.