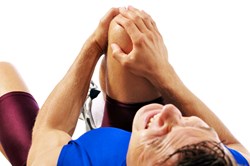 The first step to treating knee injuries is following the R.I.C.E. routine: Rest, Ice, Compression and Elevation
Clearwater, FL (PRWEB) August 28, 2013
Meniscus tears are one of the most common forms of knee injuries and can occur at any age for athletes or anyone who enjoys an active lifestyle. This can become very painful and severely interfere with anyone's way of life, especially if they play sports. Fortunately, experts at The Florida Knee and Orthopedic Centers (FKOC) are providing tips on understanding, treating and recovering from a torn meniscus and other sports related injuries.
One of the most common knee injuries and overall sports injuries occurs when the meniscus, a cartilage ring in the knee, is torn due to sudden twisting of the knee while the foot is planted. This is often caused by sports related activities such as being tackled or over-twisting the knee during golf or tennis, but it can also be a result of cumulative wear and tear over time. The treatment for this type of knee injury varies depending on the type, size and location of the meniscus tear. However, the knee specialists at FKOC state, "The first step for treating knee injuries is following the R.I.C.E. routine: Rest, Ice, Compression and Elevation."
It is important to rest the joint when suffering from a knee injury as this can stop it from being injured further and reduce pain caused by the injury. Applying ice reduces swelling in the joint which can also scale down pain. Using a compressive elastic bandage or compression brace, worn snug but loose enough to not cause pain, will support the knee to help it heal correctly. Lastly, it is important to keep the knee elevated above the level of the heart to ensure proper blood flow and reduce swelling / inflammation. This is the recommended treatment for torn meniscus pain as well as a great at home treatment for any type of knee injury. Anti-inflammatory medications such as an Ibuprofen may also be used to help with the associated pain.
A small tear on the outer rim of the meniscus will often heal on its own with the R.I.C.E. technique. Some people will feel a pop accompanied by pain, swelling and stiffness when tearing a meniscus. This can also be followed by a clicking noise while bending the knee as well as the knee giving way or alternatively locking up. When this happens, it is important to make an appointment with an orthopedic doctor as soon as possible. The Tampa Bay area orthopedic surgeons at FKOC have the professional experience to know the importance of replacing the meniscus. This allows the patient to continue with sports, running, dancing, exercising and other activities that would become too painful without the meniscus intact.
The procedure of replacing a torn meniscus is called a meniscal allograft or meniscus transplant. The meniscus transplant is typically only performed when the meniscus tear is so severe that all or most of the meniscus cartilage has to be removed. The remaining meniscus cartilage is removed and a healthy donor meniscus is inserted into the knee joint via small-incision arthroscopic knee surgery. This is a minimally-invasive procedure that typically provides a full recovery of the knee injury allowing patients to return to sports and activities usually within six months.
FKOC performed the first meniscus transplant in the state of Florida over twenty years ago and is one of the most experienced meniscus cartilage transplant centers in the country. They successfully repair triathletes' meniscus tears in the Tampa Bay area often and hold an outstanding reputation with local athletes and active seniors. FKOC performs meniscus transplants as minimally-invasive outpatient procedures with no overnight stay and commonly has a full recovery period of less than six months.
About Meniscal Allograft (Meniscus Transplant) Surgery
Meniscal allograft transplantation is a type of surgery in which a new meniscus, a cartilage ring in the knee, is placed into the knee. The new meniscus is harvested from a deceased donor. This outpatient surgery requires no overnight stay. The meniscus transplant is usually performed by knee arthroscopy with very small incisions. The new meniscus will be prepared to fit your knee correctly. If any tissue remains from your old meniscus, it will be removed and then the new meniscus will be inserted. Learn more about meniscal allografts (meniscus transplants) by visiting the FKOC website at http://www.fla-ortho.com/services/your-knees/meniscal-allograft/.
About The Florida Knee and Orthopedic Centers
The Florida Knee and Orthopedic Centers, established in 1983, has a national reputation for excellence in orthopedic innovations and state-of-the-art surgery. A team of orthopedic specialists treat patients at two locations on Florida's Gulf Coast. The Florida Knee and Orthopedic Centers is a multi-site group orthopedic surgical practice specializing in knee, hip and shoulder problems with an emphasis on joint resurfacing and arthroscopy. Learn more about this orthopedic practice by visiting their website at http://www.fla-ortho.com.