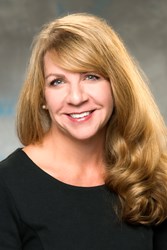 Kim brings a wealth of experience and an ambitious drive to create effective strategies and successful initiatives. - Craig Philip, CEO, Ingram Barge Company
Nashville, TN (PRWEB) August 28, 2013
Craig E. Philip, Chief Executive Officer, Ingram Barge Company today announced the addition of Kim W. Nowell as Senior Vice President, Human Resources for the barge company.
"Kim brings a wealth of experience and an ambitious drive to create effective strategies and successful initiatives, and we're excited to have her join our leadership team," Mr. Philip said.
At Ingram, Ms. Nowell will have direct responsibility for overall planning and administration of both shore side and marine human resources. As part of the senior team reporting to Mr. Philip, she will provide an enhanced focus on organizational development and succession planning, as well as talent acquisition and retention.
Ms. Nowell most recently served as Chief People Officer for Nashville-based Oreck Corporation, an international company of more than 1,500 associates.
Prior to Oreck, Ms. Nowell held the position of Senior Vice President of Human Resources with Direct General Corporation, based in Nashville.
Ms. Nowell received her Bachelor's degree in Psychology from the University of Tennessee and her Master of Arts degree in Industrial and Organizational Psychology from MTSU. She holds a Senior Professional in Human Resources designation.
Ingram Barge Company is a subsidiary of Ingram Industries Inc., based in Nashville, Tennessee, which is one of America's largest privately held companies. It consists of diversified businesses in marine transportation, physical and digital book distribution, on-demand printing, and digital fulfillment services. Ingram Industries Inc. includes two operating divisions: Ingram Marine Group and Ingram Content Group.
ABOUT INGRAM MARINE GROUP
Ingram Marine Group includes two primary operating units: Ingram Barge Company and Custom Fuel Services. Ingram Barge Company is the leading carrier on America's inland waterways. Ingram operates a fleet of more than 150 line haul towboats and nearly 4,500 barges that transport coal, aggregates, grain, fertilizer, ores, alloys, steel products and chemicals. Custom Fuel Services operates 11 floating fueling stations on the Mississippi and Ohio River Systems and provides marine fuels, lubricants, and other miscellaneous services to towboats, barges, stevedoring rigs, and ships. In addition, Ingram operates a ship anchorage in Louisiana. For more information, visit the website http://www.ingrambarge.com
Contact: Elizabeth Fielding 615.321.3110
-end-