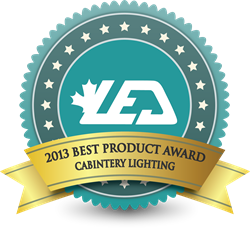 "We designed the product we wanted in our kitchens, we think you'll be happy with it in your kitchen too." said Brian Barrett, President, Venk Lighting.
Ottawa, Ontario, Canada (PRWEB) August 30, 2013
After an extensive technology and product review LED Canada is pleased to announce Venk Lighting as the 2013 winner of the best in class product award for under cabinet lights.
The Cut-ConnectT Light-Bars are high quality, patent pending rigid LED fixtures. Light-bars can be cut to length using standard tools and feature rigid 45 and 90 degree push-in connectors. Easy to install and fully dimmable using an optional inline or RF dimmers. At 1300/lm/w the Cut-ConnectT light-bars deliver bright and uniform light. "These features, the product quality, together with its value price position, have allowed Venk products to top this years best in class cabinet award", said Rob Huston, Senior Technical Solutions Architect, LED Canada.
Venk Lighting is becoming an Ottawa success story that showcases the potential of LED companies in Canada. The creation of founders Brian Barrett and Etienne Poisson, Venk is helping to drive Canada leadership in LED innovation with new ideas for unique niche applications of LED lights and supporting devices.
LED Canada is becoming Canada's largest manufacturer and national wholesaler of LED lighting. The LED Canada best in class product awards are awarded to the top three products in each lighting category annually. The awards committee reviews products on technical innovation, quality and price criteria to arrive at a ranking selection.
Look for these products to be released soon!