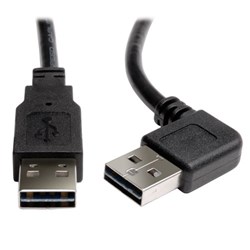 Reversible USB cables make connecting any USB device quick and easy for any application.
Chicago, IL (PRWEB) August 28, 2013
Tripp Lite, a world-leading manufacturer of power protection and connectivity solutions, has introduced a new line of reversible USB cables. These USB cables feature an innovative reversible type A connector. Unlike traditional designs where a USB cable can only be attached one way, Tripp Lite's new USB cables connect to a USB port in either direction, making connections easier and faster. Models are available in a wide variety of lengths and connector types, making them ideal for connecting any USB device.
Key Features and Benefits:
-- Reversible connector allows plugging in any direction
-- USB 2.0 compliant; up to 480Mbps transfer rates
-- Available in lengths up to 10 feet
-- Available with micro and mini connector types
-- Space-saving angled connector models available
-- Backward compatible
"Our new reversible USB cables make connecting any USB device quick and easy for any application," said David Posner, Tripp Lite Product Manager. "It's perfect for an everyday user connecting a smart phone and an IT professional setting up numerous workstations."
For more information on the new cables, visit: Tripp Lite Reversible USB Cables.
To download product images, go to: Reversible USB Cable images.
To watch a video, go to: Reversible USB Cables Video.
About Tripp Lite
Outstanding product reliability and exceptional service have been Tripp Lite trademarks for over 90 years. Tripp Lite's innovations include the world's first UPS system designed specifically for personal computers, and the world's most trusted premium surge suppressor--the Isobar®-with more than 19 million in use. Tripp Lite maintains the highest level of ready-to-ship inventory in the industry with more than 2,500 different products, including UPS systems, rack systems and cooling solutions, PDUs, PowerAlert software for enterprise-level system management and control, surge suppressors, KVM switches, cables and connectivity products, inverters, power strips and notebook accessories. Headquartered in Chicago, Illinois, Tripp Lite maintains a global presence with fully staffed offices worldwide. Additional information, including a list of Tripp Lite's sales offices and authorized reseller partners, can be found by visiting Tripp Lite's website: http://www.tripplite.com.