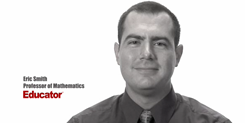 Algebra 1 contains the fundamental building blocks for higher level math later on, and simple everyday activities...
Los Angeles, CA (PRWEB) August 29, 2013
With the new school year coming right around the corner, Educator.com announces the release of our online Algebra 1 course with Professor Eric Smith.
The course is for the student who is a little stumped by Functions and Quadratics. It is for the ambitious student who wants to get ahead or review Inequalities. It is for the parent who wants to brush up on their Graphing skills to better assist their child. Algebra 1 contains the fundamental building blocks for higher level math later on, and simple everyday activities like finances and how much to tip. In Educator.com's latest math course, Professor Smith thoroughly and clearly explains everything from Order of Operations to Radical Equations and more. Students should feel more confident and knowledgeable in their Algebra classes after completion of this course.
Professor Eric Smith is a beloved instructor with a successful track record of teaching high school and college level math for over ten years. He is an expert at breaking down even the most complex problems into easy to understand, bite-sized pieces.
It is incredibly easy to access this invaluable resource and get started. Complete access to this course and Educator.com's 70+ others is available for the affordable price of $35 dollars a month. Get help in complementary courses like Algebra 2 and Biology, and other subjects like Language, Music, Computer Science, and SAT and AP Test Prep! Educator.com empowers students to learn anything, anytime, anywhere. Other super saver options include a 6-month or 12-month bundle plan for $150 and $240 a year, respectively.
Educator.com is proud to provide today's scholars with advanced digital study materials that meet both their academic and financial needs. New and exciting courses are frequently added. At this time, Educator's Algebra 1 lessons and accompanying free sample lessons are available for immediate viewing.
###
Educator.com pairs students with the best university professors and educators in the country. Educator's goal is to provide high school, college, and professional students with a variety of academic subjects in an online video format that is affordable, accessible, effective, and comprehensive.
The most effective way to improve education is to have the best teachers teach. With the best instructor in a subject, learning anything is possible. Every student deserves an excellent education regardless of geographic location or socioeconomic status and with Educator.com's affordable pricing everyone can access the site's complete content. For more information about the company, please visit the About Us Page.