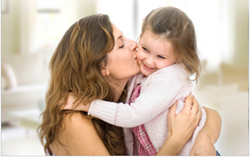 Potty training can be a long, tough task, but we think these guides will help both child and parent make it through this messy milestone with their sanity intact.
Fulton, MD (PRWEB) August 29, 2013
Next to meeting that first girlfriend or boyfriend, potty training is probably the most harrowing experience parents face. With so many books, videos, and websites dedicated to the subject, the process of getting the proper potty training advice can be daunting. Fortunately, with the latest set of updates to its expansive Tips and Advice Center, the Bedwetting Store has cemented its reputation as one of the most trusted resources for parents looking to manage their children's bedwetting or daytime wetting issues.
Earlier this month, the company launched its potty training category, with products ranging from potty seats to vibrating children's watches. This week, they unveiled information on how parents can help their child transition from wearing diapers to using the potty. Parents will also find gender-specific potty training guides, as well as three secrets for success.
"When we went about creating these guides, we asked ourselves: 'What do we wish we could have known when we were potty training our own kids back in the day?'" said Renee Mercer, co-founder of bedwettingstore.com and a pediatric nurse practitioner for over 20 years. "Potty training can be a long, tough task, but we think these guides will help both child and parent make it through this messy milestone with sanity intact."
Mercer has singled out three pointers as being particularly useful to parents. In order to ensure success, parents should wait until their children are ready before beginning training; have the right potty training essentials; and use reward charts when the toilet is used correctly. If these general guidelines aren't doing the trick, the site offers additional tips for dealing with more resistant children.
Although the internet can be a great help to parents seeking bedwetting and potty training information, Mercer reminds readers that they should consult their pediatrician if they observe any complications or difficulties.
About BedwettingStore.com
The Bedwetting Store is America's one-stop shop for bedwetting items and waterproof bedding. They have helped tens of thousands of children—and adults—since their start in 2000. They are now the largest distributor of enuresis related products in the United States. The Bedwetting Store is proud to serve the millions of families who seek information and practical solutions to help children stop wetting. They feature a wide assortment of quality products at discounted prices. You'll find their information at your child's pediatrician's office, in many popular parents' magazines and on the Web, of course. Just ask your child's health care provider about the Bedwetting Store. If they specialize in treating childhood wetting, they'll likely recommend one of their products.