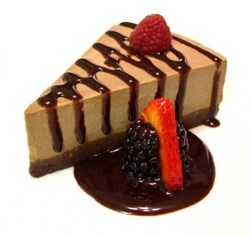 All 11 flavors of our decadent desserts are now Kosher-Certified!
Laguna Niguel, Cailifornia (PRWEB) August 29, 2013
Earth Cafe Living Foods has done it again! The nation's first and leading gluten-free raw vegan dessert brand has now added "Kosher Certified" to all 11 flavors of their decadent desserts. Earth Cafe's cheesecakes were already gluten-free, dairy-free, refined sugar-free, and made by hand with organic ingredients - and have even been called "life-changing."
While the word "kosher" can apply to what a person does, thinks, says or eats, it is most often associated with foods. To obtain Kosher Certification, a food has to be clean and prepared according to Biblical standards, which meets the dietary requirements of Jewish Law. Earth Cafe partnered with Earth Kosher to certify each of their 11 flavors, broadening the spectrum of people who can benefit from this healthy and delicious packaged dessert.
"It's important for us (Earth Cafe) to be able to provide these sinfully delicious and healthy desserts for anyone to enjoy," explains Candy Tolentino, Founder and CEO of Earth Cafe Living Foods. "Taking the steps to make our desserts Kosher Certified allows us to share them with a new community of people who would benefit from and enjoy them as well."
Earth Cafe Living Foods' mouth-watering cheesecakes can be found nationwide in over 1,000 health food stores and restaurants nation-wide, including better stores such as Whole Foods Market, Vitamin Cottage, Sprout's, Ralph's and Albertson's, to name a few. They are also available to purchase through their online website at: http://earthcafetogo.com.