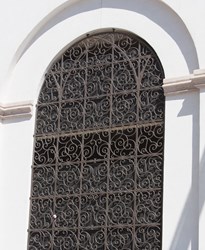 Faux wrought iron is less than half the cost of real iron.
Austin, TX (PRWEB) August 29, 2013
United Bank of El Paso del Norte recently completed a $12 million renovation project in El Paso, Texas incorporating Tableaux® faux iron as a focal decorative architectural element. Faux Iron Solutions Inc, in collaboration with El Paso architecture and construction firms, designed the large-scale, light weight, exterior installation of the grand arched grilles on the bank's façade along with other decorative grilles throughout the building.
The downtown bank's 8 massive arched grilles each measure 17 x 27 feet. El Paso Inc., the area newspaper, reported that "the real thing would have weighed several tons". Tableaux® faux iron, made of a lightweight composite material, was used in place of traditional wrought iron, providing the same visual impact without the structural demands, the maintenance (i.e. painting), and the overall expense of traditional ironwork.
Tableaux® faux iron grilles are fabricated from a weather resistant certified green substrate composed of reclaimed and recycled wood fiber and formaldehyde-free resin making them a green and economical solution.
While Faux Iron Solutions regularly provides decorative grilles for both residential and commercial projects, the United Bank project reached new levels of complexity. Faux Iron Solutions President, Carol Blanchard commented, "The job in El Paso was on such scale that it required an innovative installation method." Installation called for multiple Tableaux panels mounted on a steel rail system (Vari-Fit™) fitted to the actual arch opening. Blanchard credits FT James Construction in El Paso for the smooth installation. Project Manager Rick Miller said that the faux ironwork was easy to install thanks to its lighter weight and modularity. The total weight of each arched grille assembly is estimated at 850 pounds including the Vari-Fit™ steel railing system. The comparative weight for traditional ironwork is approximately 3.5 tons per grille.
Blanchard indicated that the faux wrought iron cost is less than half that of real iron. El Paso Inc. quoted Jim McKay, the bank's executive vice president for operations, as saying that it cost about $200,000 for everything from fabrication and purchase to labor and installation.
"Everyone seems to like it a lot," said Les Parker, United Bank's president and CEO. "We've been real pleased with it."
Based in Austin, Faux Iron Solution Inc, is a major Tableaux® distributor. For more information, visit http://www.fauxiron.com.