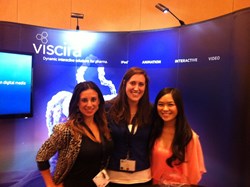 This is a nice recognition for the very talented staff we have at Viscira as a result of their ongoing hard work and innovation.
San Francisco, CA (PRWEB) August 28, 2013
Viscira, a leading provider of interactive and new-media communication and technology solutions for the life sciences industry, recently learned that it was again named to Inc. Magazine's annual 500/5000 list. This is the second consecutive year that Viscira was included in this exclusive ranking of the nation's fastest-growing private companies.
The Inc. list represents the most comprehensive look at a critically important segment of the economy - America's independent entrepreneurs. Viscira joins a prestigious group of other outstanding companies that have been previously featured on this list, including Intuit, Microsoft, Zappos, Jamba Juice, Patagonia and Oracle.
With literally thousands of entries from all 50 states, a ranking on the Inc. 500/5000 list is an honor for any private company. In fact, inclusion on the Inc. 5000 was harder this year than ever in history. During the evaluation period, Viscira achieved an impressive 3-year growth rate of 107% while continuing to maintain profitability.
Viscira's President & CEO, Dave Gulezian, was pleased to hear the news. "This is a nice recognition for the very talented staff we have at Viscira as a result of their ongoing hard work and innovation," he said. "As companies grow in scale it becomes more challenging to stay on this list, so we're happy about this achievement," adds Gulezian.
In addition to Viscira's impressive revenue growth over this three-year period, the company added several major life science clients, released successful new products, added key staff in important functional areas such as software development, developed strategic partnerships, and expanded their global business, among many other achievements.
About Viscira
Viscira is dedicated to the design and development of new-media communication solutions and interactive software applications for the life sciences industry. Viscira provides a suite of programs that integrate best-in-class technology to deliver engaging and memorable content via various electronic channels. For more information, please visit the company's website at http://www.viscira.com or contact Noёl Ashekian at (617) 429-0834.
###
Press Contact
Noёl Ashekian
Marketing Communications Manager - Viscira
Phone: (617) 429-0834
Email: nashekian(at)viscira(dot)com
More about Inc. and the Inc. 500|5000
Methodology
The 2013 Inc. 500|5000 is ranked according to percentage revenue growth when comparing 2009 to 2012. To qualify, companies must have been founded and generating revenue by March 31, 2009. They had to be US-based, privately held, for profit, and independent—not subsidiaries or divisions of other companies—as of December 31, 2012. (Since then, a number of companies on the list have gone public or been acquired.) The minimum revenue required for 2009 is $100,000; the minimum for 2012 is $2 million. As always, Inc. reserves the right to decline applicants for subjective reasons.
About Inc.
Founded in 1979 and acquired in 2005 by Mansueto Ventures, Inc. is the only major brand dedicated exclusively to owners and managers of growing private companies, with the aim to deliver real solutions for today's innovative company builders. Total monthly audience reach for the brand has grown significantly from 2,000,000 in 2010 to over 6,000,000 today. For more information, visit http://www.inc.com.