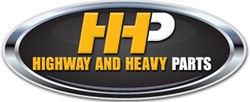 Providing unique solutions to individual situations, is what keeps customers coming back.
Midland, MI (PRWEB) August 28, 2013
Highway and Heavy Parts (HHP) is reviewing the pros and cons of using aftermarket diesel engine parts in comparison to Original Equipment. With the globalization of the diesel parts market and the new standards for parts quality, aftermarket diesel parts have reached a new quality high. Independent owner operators, Truck Fleets, and Repair shops alike are looking for options to help their bottom line. Switching from OE components to aftermarket may be the answer depending on their situations. Some of the factors they need take into consideration are price, warranty, and nationwide availability.
HHP is always looking for better ways to serve their customers. Their method of not just selling to, but rather partnering with people sets them apart. According to one of HHP's parts staff Rob Mcdowell "Providing unique solutions to individual situations, is what keeps customers coming back." Legendary service is always the number one goal at Highway and Heavy Parts. HHP's mission to help as many people as possible has led them to review the most frequently asked customer questions each month. By taking a further look at some of these questions they attempt to provide answers that may help others that are running into the same issue(s). Covering the question this month of "Is aftermarket as good as OE", they wrote in their blog some factors for and against aftermarket diesel parts. To read the entire article, it can be found at: highwayandheavyparts.blogspot.com.
For more information on diesel parts from Highway and Heavy Parts (HHP), you can visit their website http://www.highwayandheavyparts.com or call them toll free at (855) 447-7278 to speak with one of their qualified professionals. HHP specializes in rebuild kits, cylinder heads, camshafts, crankshafts, fuel injectors, turbochargers, and gasket sets for diesel engines. Coverage includes: Caterpillar, Cummins, Detroit Diesel and International engines for On-highway, Off-highway, Marine, Power Generation and Natural Gas Markets.