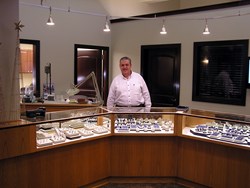 SoLux is true daylight. It makes the jewelry pop. I wouldn't use any other light source.
(PRWEB) August 29, 2013
With SoLux simulated daylight, customers have been reporting increases in sales ranging in industry from clothing retailers, jewelers, and even surfboard shops. A landmark study conducted by the Heschong Mahone Group found 40% higher sales with the addition of natural daylight in a retail environment. This was found with 99% statistical certainty regardless of the items sold.
In a recent interview, Vic Bannayan, owner of Burke and Bannayan Jewelers stated, "SoLux is true daylight. SoLux is very comfortable on the eye, it makes the jewelry pop. It shows everything very sharp and clear. I show my diamonds, rubies, pearls, all under the same light, SoLux. I used SoLux in my previous shop and when I opened this new shop, I made sure to order more SoLux lights. I've been using them for 10 years. I wouldn't use any other light source. We love SoLux."
"Retail giants like J.C. Penny, Macy's, and Sears could increase their sales by an average of 40% by simply changing their lighting," according to Phil Bradfield, Vice President of Sales at Tailored Lighting, inventors of the SoLux bulb. Bradfield states that consumers that make the journey to malls and outlet stores want to see and feel what they are buying rather than see a 2D picture of it online. The current lighting in most stores doesn't represent colors and textures the way they look outdoors or in a consumers' home.
Energy efficient lights tend to mute and distort colors by emitting only a few colors visible to the eye in the attempt to save on the electric bill. In fact, light sources like SoLux that emit some heat actually save money in over 90% of retail establishments in the US where more energy is spent heating than cooling indoor spaces.
Chris Rule, owner of the Surfindian Surf Shop in San Diego, CA recently reported that they've been extremely pleased with the use of SoLux in their art gallery and the performance of the bulbs and fixtures. They also decided to invest in SoLux for the surf shop to boast their surfboards and feature them in the best light possible.
"Retailers that are using SoLux are giving their customers a HD experience and are capturing more walk-in sales," states Kevin McGuire, President of Tailored Lighting and inventor of the SoLux Daylight Bulb. "The use of anything less than SoLux to display goods is like an electronics store using basic cable service to demonstrate their high definition TVs."
The SoLux bulb is acknowledged as producing the most accurate simulation of natural daylight rendering colors to near perfection. SoLux is also the most specified bulb in the museum and art industry illuminating more famous works of art than any other single brand of light source.
Gerhard Bendl, President, Custom Shirts in La Jolla, CA states, "We like SoLux lighting because they bring out the true colors in our suits, ties, and shirts. They really make the colors pop."
According to Bradfield, "Retail stores need to start thinking of lighting as a revenue and profit opportunity rather than a cost item on the income statement. SoLux offers a potential 40% increase in sales just by changing the lighting."
About SoLux:
SoLux is a patented light source that provides an unparalleled replication of natural daylight. Use of SoLux in many of the world's top museums including the Musée d'Orsay, Van Gogh, and Guggenheim Museum is testament to its unmatched color quality. SoLux also has eight times the life and twice the efficiency of standard incandescent sources, does not contain the mercury found in fluorescent lights sources, and is a fraction of the cost of LED sources. SoLux is now available in line voltage PAR format. For more information, please visit http://www.solux.net.