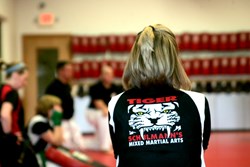 Tiger Schulmann's offers AUTHENTIC kickboxing classes. You learn real-life self defense techniques in addition to achieving peak fitness. Plus, the classes are designed to be a lot of fun!
Eatontown, NJ (PRWEB) August 28, 2013
Kickboxing has become a major national fitness trend. People all over the United States have clamored to join varying classes offering the benefit of substantial weight loss.
Tiger Schulmann's Mixed Martial arts has positioned itself as an authority in martial arts training, including the art of kickboxing.
"We offer 'authentic' kickboxing classes to our students," says Alon Feder, Director of Marketing for Tiger Schulmann's. "In essence, our students learn the most current and effective martial arts techniques. They learn to execute the moves properly, gain the benefits and minimize the risk of harm. Many of the cardio kickboxing classes available to the public only simulate kickboxing. The downside is that they are not as thorough and not as effective," Feder states.
The new web-only offer for Tiger Schulmann's of Eatontown can be located at this website: eatontownmma.com/kickboxing-classes/.